Europe's Mediterranean Coast
Price valid until 8/31/2022
Student
$3,979
or $216/ 18 mos
Adult
$4,429
or $241/ 18 mos
Airfare & transportation

Hotels

Regional-style meals

Guided sightseeing

Entrances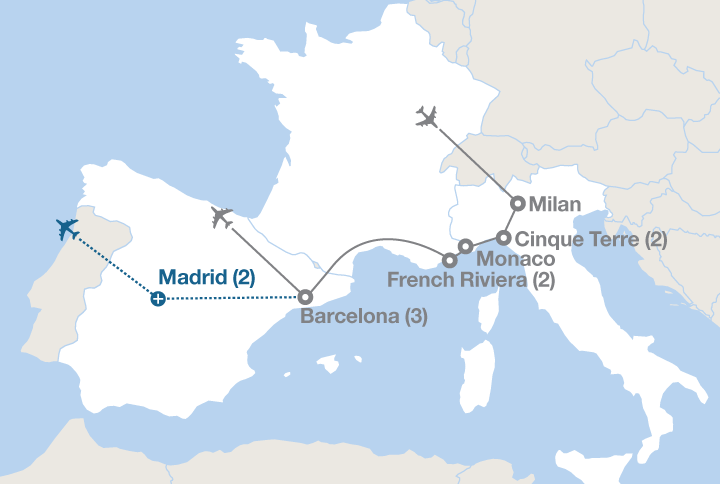 Fly overnight to Italy

day
1

Milan • Cinque Terre

day
2

Meet your Tour Director at the airport
Travel to Cinque Terre

Explore Cinque Terre by train

Cinque Terre • French Riviera

day
4

Travel to the French Riviera

Take a tour of Monaco

With your Tour Director you will see:

Prince's Palace
Monaco Cathedral

Visit a French perfume factory

Take a walking tour of Nice

With your Tour Director you will see:

Vieille Ville
Promenade des Anglais

Explore on your own or add this in-depth excursion:

Saint-Paul de Vence

Join a half-day guided excursion to the medieval, fortified hill town of Saint-Paul de Vence, one of the French Riviera's most beautiful villages. Admire breathtaking views that inspired painters like Marc Chagall and Henri Matisse as you stroll along the 16th-century ramparts encircling the town. Then lose yourself in the town's maze of charming streets and see why it's a photographer's delight.

French Riviera • Barcelona

day
6

Take a guided tour of Barcelona

With your expert local guide you will see:

La Sagrada Família
Park Güell
Montjuïc

Take a walking tour of Las Ramblas

Barcelona flamenco evening

Feel the pulse of Spain when you attend an unforgettable flamenco performance! Born of Indian, Moorish, Arabian, and gypsy influences, flamenco dance is a passionate display of dramatic poses and colorful costumes, accompanied by song and guitar. Marvel at the intricate rhythms created by a dancer's steps, castanets, and clapping. Note: A beverage is included during the one-hour performance.

Explore on your own or add this in-depth excursion:

Montserrat

Journey northwest of Barcelona on a half-day excursion to Montserrat. Its mountain setting provides a dramatic backdrop for the 9th-century monastery whose basilica houses the Black Virgin Mary of Montserrat. Legend has it that Benedictine monks could not move the statue to construct their monastery, so instead they built around it. You may even hear the renowned boys' choir during your visit.
Price details
Price valid until 8/31/2022
Student
$3,979
or $216/ 18 mos
Adult
$4,429
or $241/ 18 mos
Program Price

$3,709

Global Travel Protection

$190

Flamenco Evening Barcelona

$80
For every 6 paying travelers, 1 chaperone travels free.
Airfare & transportation

Hotels

Regional-style meals

Guided sightseeing

Entrances