Celebrate Girl Guides internationally with a visit to one of the WAGGGS World Centres: Our Chalet in Switzerland and Pax Lodge in the U.K. During your visit you will learn about the dynamic history, and you will take place in a pinning ceremony with volunteers from across the world.
Girls take the lead
On an EF tour, girls get to play an active role in the tour process. Taking on responsibilities and being engaged in the process, from beginning to end, is a powerful way to gain leadership skills that will benefit them long after the tour has ended. We aspire to give girls the opportunity to grow through our international programs and use travel as a way to build their skills in the areas outlined below.


Decision making

---

The girls will need to agree on what kind of trip they want to take. Do they want to visit Europe, Asia, or Central America? The girls will organize fundraising activities, work together to research sites, cultural differences, and food they want to try abroad.

Money management

---

Travelers get their own easy-to-share page where friends and family can contribute to their tour. Girls will gain financial literacy and skills like budgeting, and can set a budget for the tour that considers things like tips and activities not included in the itinerary.

Global Citizenship

---

Once on tour, girls will have to adapt and learn to communicate with people who may not speak the same language as them. Through experiential learning, they will develop empathy and greater global awareness. They will gain exposure to cultural, social and economic differences that help them better understand the world, the people in it, and their role within it.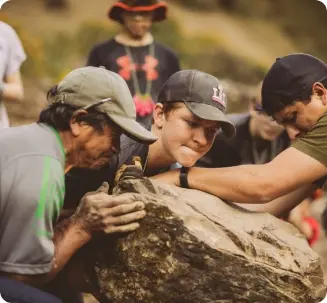 The EF approach to service
Success stories of meaningful Service Learning, cultural immersion, and leadership development.

2 minute read
How it works
Whether it's a unique destination on the other side of the world or the city you visit time and again, we make planning a breeze for our most popular tours and beyond. From your biggest, boldest ideas to the teensy, tiny details, we're with you every step of the way.
Building your team

---

It starts with your Tour Consultant, an expert on groups in your area who's laser-focused on you and your girls' growth.

Choosing the perfect tour

---

We work with you one-on-one to find the perfect popular tour itinerary for the needs of your group.

Spreading the word

---

When it comes to signing your girls up and getting them excited about the best places to travel, we've got plenty of tips.
Let's find your perfect tour together
Maybe one of these service learning trips is perfect for you. Or maybe you've got your own ideas. Whatever you're thinking, we're ready to help turn your travel dreams into reality. Fill out your information and we'll be in touch to talk all about it.