International Training Tours
Experience a tour before you lead one
We want you to feel prepared and confident when you find the perfect tour to lead. That's why experienced Group Leaders from districts throughout the country, along with EF staff, will host teacher travel groups in Paris, Panama, Rome, Madrid, Dominican Republic, Berlin, Barcelona, or Beijing on an international training tour after you enroll eight students. Your spot on a training tour is covered by EF to help you learn what it takes to successfully lead students abroad and gain useful tips and advice along the way.
Through our blended learning model, you will:
Experience all aspects of an EF tour before taking students abroad
Understand and facilitate experiential learning in a global context
Gain global awareness and improve cross-cultural understanding
Explore ways to align your tour with school
Discover ways to infuse a global perspective in your classroom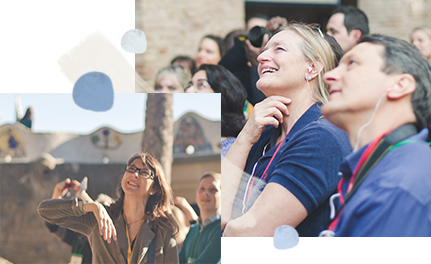 International Training Tour Destinations
Due to the uncertainty of COVID-19, we have postponed all of our in-person training tours for the time being. However, we're excited to offer our new virtual training program.
This page will be updated when training tours become available, but in the meantime, please stay in touch with your Tour Consultant for the most up-to-date information.
View our full Terms and Conditions.