The traveliest rewards program, hands down
/ / / / / /
When you love to travel, you never want the trip to stop. So we created our Global Rewards program to give EF Group Leaders the world. As soon as you start leading student tours with us, you're automatically enrolled, meaning you'll start earning points immediately. And you can take full advantage of your points practically right away. We've designed a selection of just-for-you VIP Rewards Tours that go almost everywhere, with itineraries and experiences you won't find anywhere else. Use your points to get away for a long weekend, or save up to take the kind of trip you never dreamed was possible—until now. You can even put your points towards specific travelers' accounts or apply them to on-tour excursions for your group.
There are tons of (super easy!) ways to earn points
Lead your first student tour!
First-time Group Leaders can earn 1 point for every traveling student, times the number of days on your tour. (So if you lead 20 students on a 10-day tour, that's already 200 points.)
Lead your second student tour.
And third, and fourth, and fifty-fifth…
Your point-earning rate multiplies as you lead more tours. For starters, when you lead two tours, you'll get two-times the points—but you can see the full travel-amplifying math here.
Refer a friend
If your referral leads their own student tour, you get 500 points right when they get home.
Share the wealth
With EF School Points, when other teachers from your school lead tours, you all earn bonus points.
Make it a double
Lead tours two years in a row and you'll earn extra points.
We'll keep track of your points for you
Just log in to see how many you currently have.
Redeem for travel, travel, and more travel
VIP Rewards Tours start at only 500 points!
Earning points is easy. But choosing how to redeem them? That gets hard—especially when you can use your points to go on our bucket-list-level, VIP Rewards Tours designed specifically for Group Leaders and their guests. Even better? Your points go three times farther when you redeem them for one of these just-for-you, just-for-fun vacations. Contact our Loyalty Team
We're always happy to chat more about Global Rewards. If you've got questions about the program or your account, reach out at [email protected] or 800-782-2076.
Redeem for scholarships
Just like you, we want to help as many students as possible see the world. That's why we'll match your points when you redeem them for a student scholarship, meaning your points will be worth twice as much!
Want even more ways to redeem? We've got you.
You can redeem your points for everything from personal travel through our exclusive Flight & Hotel Finder to hotel room upgrades on your student tour to travel with our sister company, EF Go Ahead Tours. However, by far, the best bang for your bucket list comes from our VIP Rewards Tours.
The power of your points:
"What a wonderful experience! Life-changing. Meeting travel lovers from around the country inspired me to continue offering these experiences at my school."
—Tom P., NY
English teacher
Used his points for a VIP rewards tour to Botswana
As you lead more EF tours, your Global Rewards status will climb quickly. With each new level you reach, your points multiply and you unlock access to even more perks.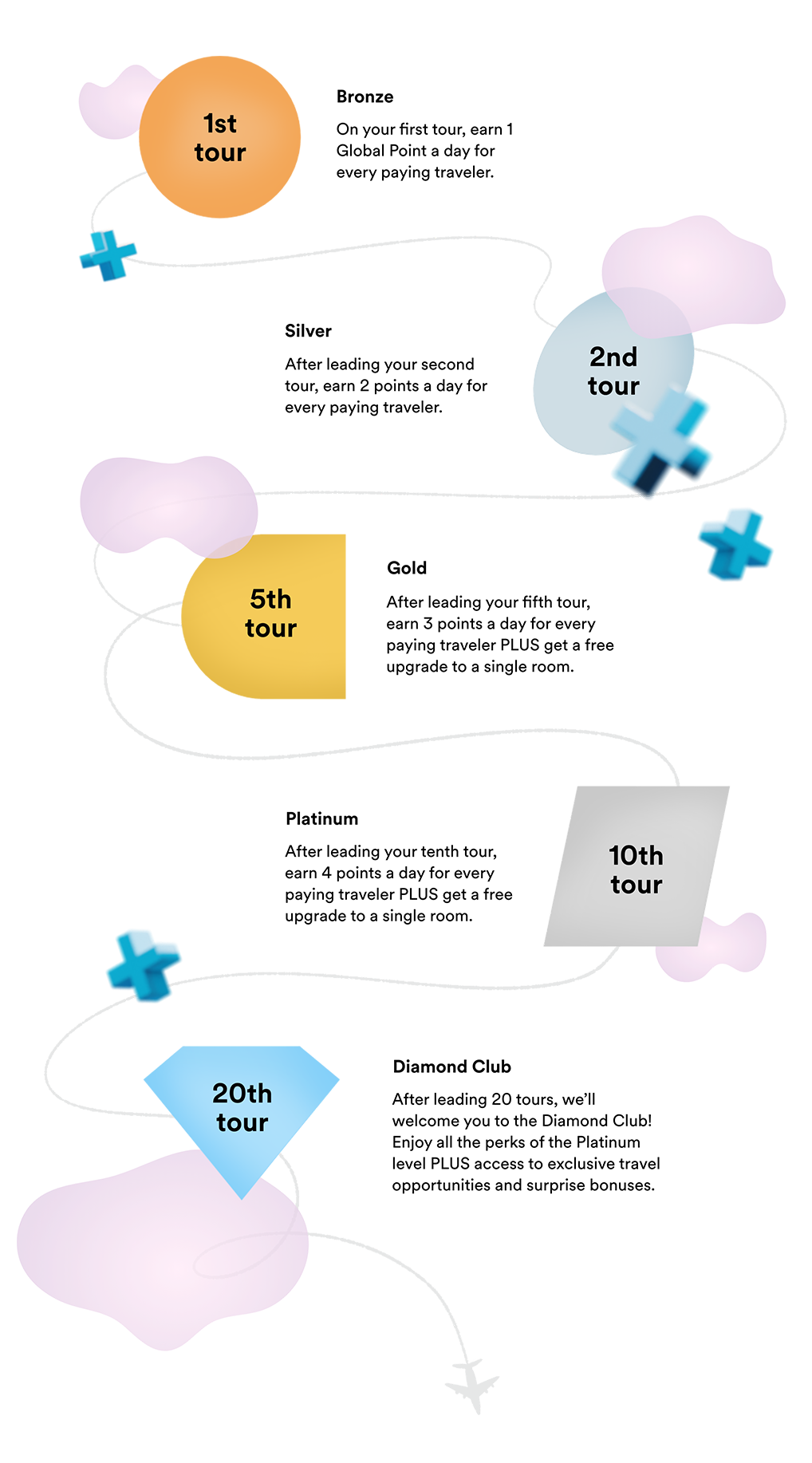 Ready to jet?
If you want to see the world—and then get rewarded for it by seeing even more of the world—you should join our Global Rewards program.