The traveliest rewards program, hands down
/ / / / / /
When you love to travel, you never want the trip to stop. So we created our Global Rewards program to give EF Group Leaders the world. As soon as you start leading student tours with us, you're automatically enrolled, meaning you'll start earning points immediately. It won't be long until you can take full advantage, either. We've designed a selection of just-for-you adventures that go almost everywhere, with itineraries and experiences you won't find anywhere else. Use your points to get away for a long weekend, or save up to take the kind of trip you never dreamed was possible—until now.
1.
How to earn points
2.
How to redeem points
3.
Just-for-you adventures
4.
Membership levels
Earning points? Set it to autopilot.
/ / / / / /
Traveling with EF earns you points to do even more traveling. Simple as that. Even simpler is how you earn points. When you lead students on tour, you earn points. When you refer fellow teachers to EF and they lead their first tour, you earn points. And if you lead a tour with another EF product? Yep, you guessed it, you earn points. Don't worry about keeping track: We'll take care of the math while you're out exploring the world.
Redeem for travel, travel, and more travel
/ / / / / /
As your Global Points pile up faster than stamps in your passport, you're going to want to put them to good use. How can you do it? There are plenty of ways to get back out on the road (which we highly recommend ✈️), but if your schedule is tight, you can redeem your points in other ways, too.
Adventures with EF

Prepare to roam the globe with other travel-obsessed Group Leaders and EF staff on immersive tours in some of the world's most exciting destinations.

Personal travel

Take your family, take a friend, or take off on your own for some R&R or an epic adventure using EF Go Ahead Tours or our exclusive Flight & Hotel Finder.

All the upgrades

Enhance your experience on tour with new gear, room upgrades for adult travelers, and the opportunity to use your points to cover costs for students, too.
Take the trip of a lifetime.
Then another. And another.
/ / / / / /
It might be impossible to see the whole world in one lifetime. But you can still give it your best shot. Use your Global Points to travel all over, from strolling by the Eiffel Tower in Paris with your family to embarking on an adventure in Rwanda with other EF Group Leaders. Apologies in advance: Your bucket list is about to get a lot longer.
/ / / / / /
As you lead more EF tours, your Global Rewards status will climb quickly. With each new level you reach, your points multiply and you unlock access to even more perks.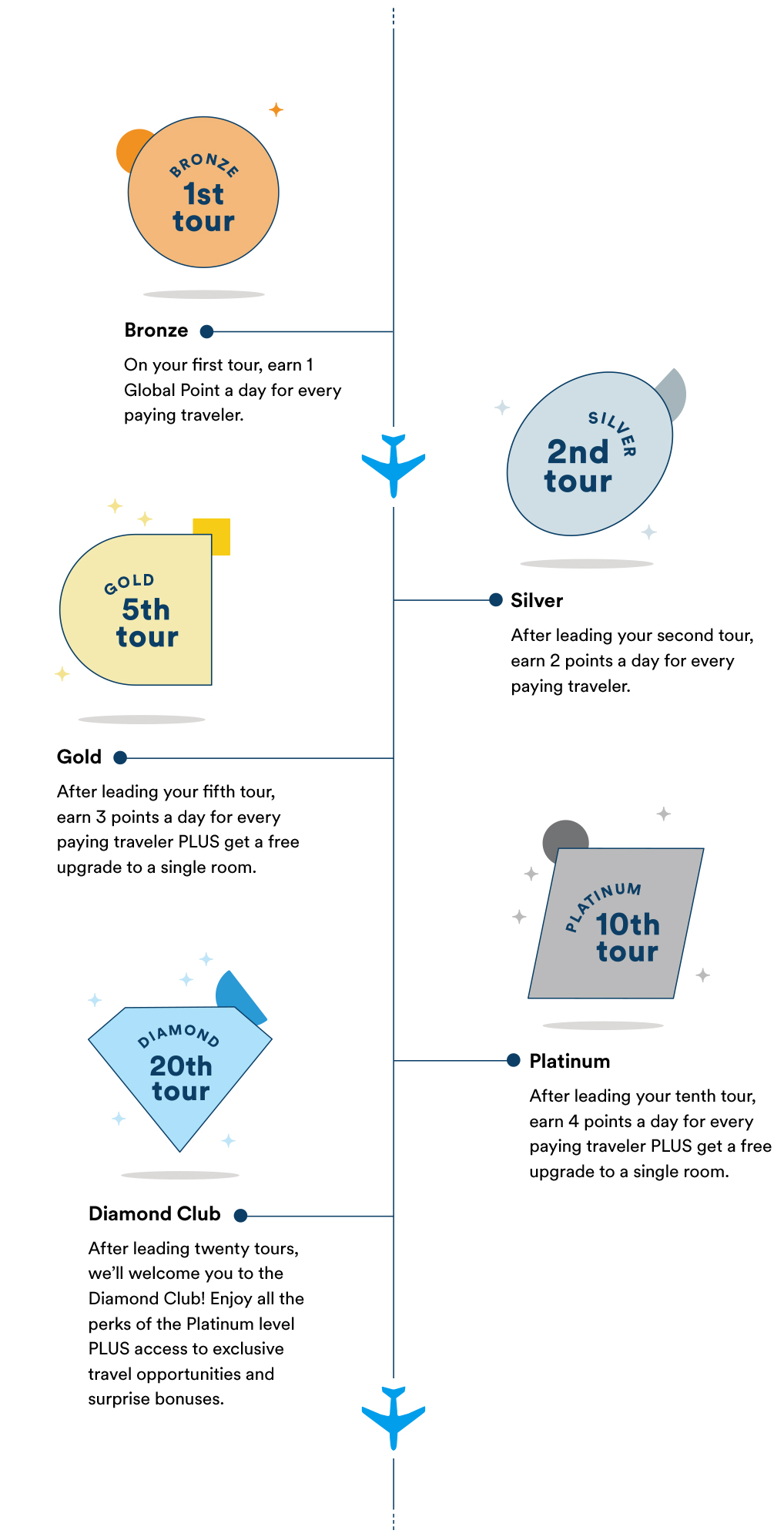 Ready to jet?
If you want to see the world—and then get rewarded for it by seeing even more of the world—you should join our Global Rewards program.