When you partner with us, we make tour planning a breeze. That's because we build a team around every teacher who travels with us, giving them personalized support every step of the way. Not sure which destination to choose? We'll walk you through your options. Need help getting your school district excited? We're already on it. Can't decide what to pack in your carry-on? That's pretty personal…but we'll still offer plenty of advice.
Say hi to your new besties, your Tour Consultant and EF Experience Specialist. Together, this dynamic duo makes up your very own EF Travel Team. Each one of these experts has a specialized skill set, but their overall goal is the same: making sure you get individualized support and have the absolute best tour ever. First, you'll be paired with your Tour Consultant. As an itinerary whiz and expert on your school district, they'll match you with your ideal tour and get students signed up. Then, you'll meet your EF Experience Specialist. They're dedicated to handling all the nitty-gritty logistics that make your tour a success (think passport assistance, rooming assignments, fundraising ideas, you name it). Plus, they look out for your personal and professional growth, connecting you with all of EF's incredible teacher benefits.
We offer hundreds of destinations and endless possibilities for you to inspire your students. So, how do you narrow down all the options? Your Tour Consultant will work with you one-on-one to find the perfect itinerary for your group—but you can also consider these approaches: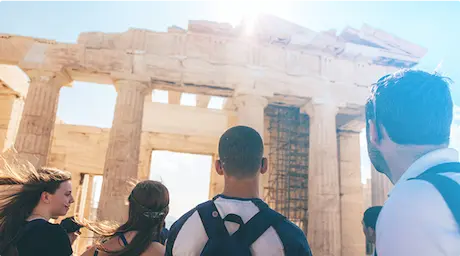 Envision your dream destination
No matter where you take your students, they'll experience a new way of life and the invaluable chance to develop a sense of independence before college. So choose the place you or your students are most interested in, and go from there.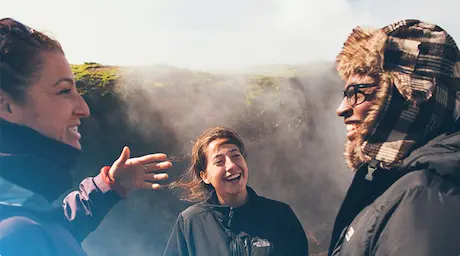 Let your subject lead the way
While we can tailor any destination to match your group's goals, we've also designed several subject-specific tours—focusing on everything from STEM to language learning—that show your students the real-world applications of their classroom studies.
Get students and parents on board (pun intended)
We make it easy to sign up students and get them excited for your tour. From spreading the word to hosting an informational parent meeting, your Tour Consultant will give you all the tips and support you need to get going. Plus, they'll give you tons of tools and resources, ranging from enrollment posters to hang around school to detailed itineraries for interested travelers.
Help as many students as possible see the world
We believe every student should have the ability to travel. That's why we offer the lowest prices possible, and give parents a variety of tools and resources to help manage costs. Plus, for every six travelers you enroll, you get a free chaperone spot.
---

Travelers get their own easy-to-share page where friends and family can contribute to their tour.

More on fundraising

---

Every year, we award $100,000 worth of scholarships to up to 100 students from around the country.

More on the scholarship

---

Parents can pay at their own pace, and break the cost of their trip into manageable monthly or bi-weekly payments.

More on payment plans
Between your Tour Consultant, your EF Experience Specialist, and the rest of the EF team, we're here to make sure everything goes smoothly —both before and during your tour. We'll handle all of the logistics and we'll work with parents and students directly to answer any of their tour questions. That means instead of planning and handling every single detail yourself, you'll be free to stay focused on your number one priority: teaching.