On German immersion programs, students discover the unique and intricate aspects that make cultures vibrant. They learn, use, and interact with the German language to unlock a deeper understanding of ways of life that are different than their own.
Other suggested German tours
Other suggested German tours broaden students' horizons through everyday language exposure, cultural exploration, vibrant experiences, and the opportunities to interact with local residents.
Tales from our cultural tours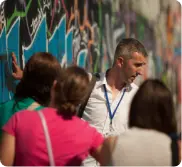 Micro lesson: Visit the Berlin Wall
Have your students watch this short video on Berlin Wall history hosted by a German local.

3 min. watch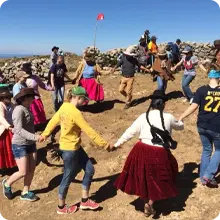 How language builds understanding
Language is just the beginning when it comes to cross-cultural understanding.

5 minute read
How it works
Whether it's a unique destination on the other side of the world or the city you visit time and again, we make planning cultural travel a breeze. From your biggest, boldest ideas to the teensy, tiny details, we're with you every step of the way to plan your ultimate German immersion program or German language learning trip.
Building your team

---

Your German immersion program starts with your Tour Consultant, an expert on schools in your area who's laser-focused on you and your students' growth.

Choosing the perfect tour

---

We work with you one-on-one to find the perfect Germany language learning itinerary for the needs of your group.

Spreading the word

---

When it comes to signing up students and getting them excited for German immersion tours, we've got plenty of tips.