trip of a lifetime!!!
The Grand Tour was all I had dreamed of and more. The cities were breath taking, the tours were interesting and the traveling was absolutely comfortable. I especially adored our tour director, he did his job fantastically, really made close personal relations with each of us and made the trip that much more fun with his jokes and fun facts. The one review that I would leave is that I wish some of the cities we could have stayed for more than just one day and example being Amsterdam. I fell in love with that city but feel like I barely even saw it. If there is such a way to make some cities get two days (possibly cut the third day in Paris? just spitballing here) I feel like it would be so much more enriching!! Thank you so much for this amazing adventure I will surely be coming on College Break!
Extremely worth it
My trip was amazing and I would definitely recommend EF to my friends. I really enjoyed my trip and I would do it again!
Awsome
The best vacation ever!!! The experience is awsome, and the knowledge you acquire of the culture of the Europeans is very nice. Recommended 100% for everyone.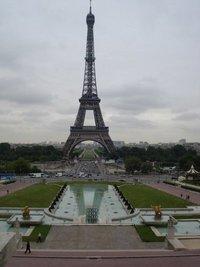 king of good
What you get for the price is fair. Transportation, hotel, and breakfast and dinner are included in the price. But do keep in mind that the food may not be of your liking. I specially didn't enjoy the harassment from the tour guys that you MOST buy from ef tours only. Ours were helpful and would give us tips about where we may find other places to buy things, but other tour guys wouldn't even give tips as to where to find stores or places to eat because ef was selling something similar and, well, they make a profit off from it. I recommend it, but just do bear in mind that this people want to make money and they also want to make an extra profit, so they will try to sell you tour packages you may not enjoy. I would say enjoy every free day and plan your own tours instead of buying there own planned tours. You would safe a lot more money.
Tour of a Lifetime!
I enjoyed my trip very much. I loved seeing all the places I had read and learned about. I liked that we got to see the highlights in every city/country we went to. I thought the tour covered most everything I wanted to see. The only bad part was the bus rides, but they were nessisary.
Astounding
Great trip, real value for your money. We visited a lot of places in one months. Our tour guides were very knowledgable and took us to the best places. I had a blast I never thought I could visit so many places un such a short time.
Right Balance
This trip has the right balance between fun, experiences and learning... Tour Guides were outstanding, supportive and full of energy (really full).

Love it!!!
The tour was great: for a very low price you get to visit all these wonderful places. The whole experience was fun and it was one of the best summers of my life!
The only problem was that almost all meals consisted of pork, and my tour guides were rude (weird because i've travled before with EF and that was not my experience).
A trip of a lifetime!! I mean it!!!
Wow! Where to start? The trip was filled with anxiety and excitement, but when we set down on another continent for the first time it was amazing!! Traveling to 11 different countries and having it all planned out with tours in each country helped us to get the most out of the trip.

We saw so many great thins you read about in history books, and I was in aw of so many great things. From see St. Paul's Cathedral, to the Trevi Fountain, going to the top of Mt. Pilatus in the Alps, going to the top of the Eiffel Tower, and so many more. If I tried to list everything I would be here forever!

My favorite place was Switzerland and being able to go from a quaint city to a the top of the mountains in the Alps.

We stayed in pretty descent hotels most of the time, with the exception of a couple places. The dinners that were included weren't always the best, but definitely not bad.

The whole experience was amazing and I would love to do it again in a heartbeat!! I look at my scrapbook I put together from the trip a lot, and it makes me miss it so much because it was such an amazing trip!