Absolutely Life Changing
The trip to Peru completely change my outlook on life. The tour guide we had was absolutely amazing and his knowledge helped to give us a more enjoyable experience. I will never forget my trip. It was amazing.
Trip of lifetime
I did not love accommodations due to no heat. I did not love being passed around because a person canceled at last minute and sent the opposite sex in their place, so no place for me! I did love our guide, very knowledgeable. I did love our service project. The food was o.k. some was great. Too much chicken by end of trip!
Amazing
Peru was an amazing experience and learning opportunity. That my group was able to perform service for this country humbles me. It was a privilege for me to perform service for Peru.

The itinerary was rigorous with very little down time. That enabled us to see much and participate in great samples of Peruvian culture.

That said, planning was sometimes awkward. Such as taking the group to a wonderful market to shop, then expecting everyone to walk, hike, and climb with very full backpacks for the next three hours, was poor planning. Allow down time, and allow storage of personal belongings...let people check into their hotel...THEN hike around town for three hours.

Perhaps allow time for more community engagement. Instead of darting from activity to activity, allow students to engage for a deeper connection to the culture. I personally would have appreciated more connection to the musical culture. That was all but ignored.
Amazing Experience!
Our trip was well organized and our tour director was fabulous. The hotels were a bit antiquated, but were adequate for our needs. I would highly recommend this trip to anyone!
Macchu Picchu
The EF Educational Tour to Peru was impressive. Although the distance was long and travel included four air flights, two train rides and numerous bus trips, there was not a single glitch. The group toured some very beautiful, historic sites that included ancient Inca cities and sacred indigenous sites as well as 16th century Catholic churches of traditional Spanish architecture. The tour guides were credentialed and knowledgeable about the sites, making the experience cultural richer. Our tour leader was nothing less than awesome.
Excellent trip!
The Peru trip was very well organized. We saw so many things, learned so many things, and the community service aspect was a nice touch.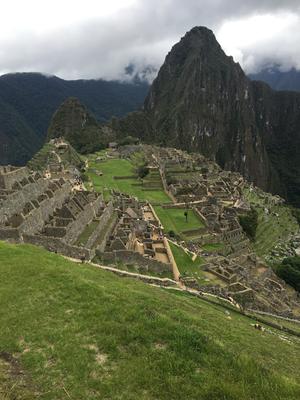 Peru was Fabulous!
Daughter absolutely loved this trip! Peru was a beautiful, friendly and interesting country. The EF chaperones and Peru guide were amazing. My daughter really enjoyed all the activities and sites that she got to experience. I would highly recommend this trip!
Amazing Trip
The service learning trip to Peru was amazing! The guides, Jorge and Andrés made the trip a total success! They were amazing!! They bonded with us and our students and kept Us safe and comfortsble!!
Peru Was Dope
Tour was amazing. Guides were some amazing people- really genuine, intelligent, one-of-a-kind guys. It was a brilliant experience, beautiful sights and wonderful people. Everyone should go to Peru at some point, tbh.

Okay, for real. This doesn't sound specific. But just the pure immersion into another culture was an experience I'll never forget.
Above Increidable
The most amazing experience - we have ever had! The photographs can't make justice of what we lived. The greatest tour guide that went the extra mile - and it was always with a BIG smile. The places were more than beautiful, the food was super delicious, and the moments that were lived were spectacular. This trip is highly recommended to anyone that wants to see and experience one of the wonder's of the world!