Could've Been Better
Our trip was not what I had hoped for. Early on it was due to very unacceptable air travel which is not the fault of EF Travel. However we lost almost all of the time we were supposed to spend in Paris. Our transportation from CDG airport should've been waiting for us at baggage claim but instead we had to meet someone and then walk a long way to pick up our rides to meet the rest of our tour group.
We missed dinner as a result of this delay. Accomodations that first night in Paris were not very good. Record high temperatures that night in a room with no air conditioning made this very uncomfortable.
Air conditioning really didn't work in any of the rooms during our stay. Dinners were satisfactory but not great. Almost none of our meals had vegetables and the portion sizes were on the small size on a few of the meals. Not terrible but nothing to write home about. Buses were not meant for adult passengers....very tight.
The tour guide was excellent and did a super job of keeping us all informed and explaining things along the way. I'd recommend him for any tour.
Adventurous Experience
EF Tours is a great company with a global mission. However, I would not travel as an adult with a student study abroad trip. The trip was too exhausting since we were up by 7:00 a.m. and sometimes did not get to bed until 11:00 at night.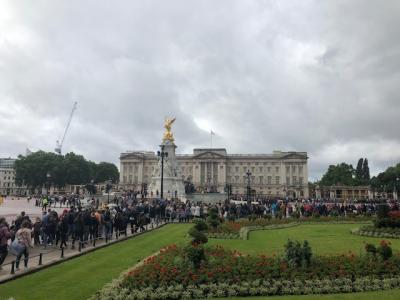 Great Trip
This was my first trip to Europe and I enjoyed the experience. Our Tour Directors were knowledgeable and friendly. We had plenty of free time to explore on our own as well as planned activities. London was fun to explore on our own. Paris was exciting. Normandy was awe inspiring. I would highly recommend this tour!
Terrible hotels and food
Several hotels were terrible, and the food was awful
Awesome experience
I loved it!!! The experience was amazing and tour guide was so good. Will be doing it again next year!!
Great experience.
The tour was a balance of educational, informational and entertaining.

My students got to experience history. Visiting locations of major events in history was very inspiring to many of them.
Too large group, too little learning
We traveled to Paris, Normandy region, and London with a group of 18 high school students; before the trip, we were informed EF had paired our group with 25 middle school students and their chaperones along with a half dozen other high school students and adult travelers. The total group was more than 50 people, which is WAY too big. We couldn't maneuver or get into sites without multiple slowdowns. In addition, mixing middle school (6th grade) and high school kids (12th grade) isn't appropriate. The middle school students were not at the same academic level as the high school students, so the historic sites we visited in Normandy meant little to them. We didn't get a tour of Notre Dame, and our guided tours of London and Paris were only a few hours on a bus, which is pretty subpar. Our tour director also was overwhelmed with managing behavior and logistics instead of providing cultural and historic information. If EF is really "education first", this was not up to their standard.
Filling up my bucket list with check offs
Travel experience with friends, coworkers, and students can't be beat. Experiencing it through different age perspectives and background brings dimension and joy. Full days of seeing highlights, and experience living there with public transit systems, local restaurants, museums, and attractions.
bumbling mess
We had two groups together and it was a total of 48 people. It was a terrible time for everyone to keep together and made for a difficult tour. I am severely disappointed it the whole trip. The food was horrible in France with potatoes every night and no vegetables/salad to be found. Poor planning with getting to and from our destination for the day with walking up and down the underground system to get anywhere. I dont think I would use EF Tours should I decide to come back to France/England as it is a bumbling mess when it comes to coordinating sightseeing tours.
Rouvre
I did enjoyed myself very much during this tour and although I do love going on educational trips what I would have loved even more is experiencing the life of someone who lives in Europe. I would have also liked for our tour guide to be a little more accommodating. Another thing is I understand that we didn't have much time to do a lot of things but the time wasn't very properly managed I feel as though we were rushed to do most of our activities. Lastly I think most of my classmates felt the same way about the bus rides, they were very long and not very fun. Overall once again I had an amazing time.