Terrible
Our first 5 days in Paris we stayed in a poor quality hotel located in a sketchy location. The breakfast was poor and only served microwaved bacon and eggs that still weren't fully cooked! It was all ran by one employee which slowed everything down. The hotel was too far from anything and we had to walk about 20 minutes everyday to get to the subway where we'd sit and wait 10 stops everyday to get to something interesting and decent. We didn't even use buses that often! Absolutely terrible. The hotels in Switzerland and Germany were fantastic, nothing wrong about that. The hotel in Austria was also terrible! It was in the middle of nearly nowhere and was very poorly managed. The entire vicinity was swarming with mosquitos all outside AND inside. The hotel was hot and humid and had absolutely no air conditioning. To make things worse, the rooms had no ventilation due to the only window needing to be shut. The windows screen was ripped and needed to be closed at all times since we were on the first floor and the area was also sketchy. It was absolutely invested with bugs and mosquitos it was repulsive. No matter the amount of bug spray I had used I still got 11 bug bites all over my body! The one on my hand made it swollen to the point where it was just a ball of my flesh that looked like sausages had been attached to it. I had another one on my arm that swelled up as well and a lot more! Going on a trip to EUROPE I'd expect good quality hotels in good areas. I payed good money for this trip only to have my things be at risk of being stolen and myself at risk of developing a sickness! I was the worst victim of this all and I find it incredibly unfair to pay thousands for this "vacation" only to experience poor service.
Chaos
Low quality food. Didn't get to experience much, tour guide talked about historical landmarks rather than visiting them. Constantly being told they were in high pick pocket areas. Was told they would only have to rarely use the Metro, but they were taken on it 5+ times daily. Tour guide left group to find their own transportation back to the hotel. There was a mouse in one of the low quality restaurants the group was taken to eat at.
Horrible tour guide
The places we got to see was amazing. I would recommend the tour itself. The guide was not very nice, he had made some inappropriate comments about a gay gentleman on the tour and had told a heavy girl that she should walk that she needed the exercise. The meals he had ordered for the group were not good and another tour that dined at the same place we dined had some food that looked amazing.
Disappointed
1. She came back with bed bugs
2. Too many excursions without adequate time to see them (for example, only 2.5 hours to see the entire Louvre)
3. Far more additional expenses for excursions than we were led to believe. The trip is not as all inclusive as we thought.
Sleep deprived kids; NOT Educational
I have travelled to Europe with family and friends before. Never on a tour. I decided to chaperone and accompany my daughter who wanted to use her French. I expected a student tour to be quick paced and not geared to any one individual's interest but this tour was so fast paced that the kids (and adults) were unable to catch up on sleep and then "herded" from one place to another leaving very little time to enjoy each place. Some specific details are listed below.
1. We arrived in Paris at 6am after leaving from our originating US city at 6am. Think about this. We had all been up at the wee hours of the morning before our flight then arrived,very sleep deprived, in Paris at 6am. We were told by our Tour Guide that we were not going to our hotel and were expected to work through our tiredness by continuing with the tour until 10pm! We were then dumped in Paris for several hours on our own to walk around and have our lunch. Our group of 9 kids wanted to sleep and some fell asleep at lunch, most fell asleep on the Opera house steps, and some fell asleep at dinner. Not only were they tired but many had headaches and stomachaches, most likely caused by being sleep deprived and dehydrated.
2. All hotels used on this tour where far from the cities promoted. Our four days in Paris started with an early morning bus ride of 1.5 hours from our hotel (in an industrialized area)through commuter traffic. The girls on the tour were disappointed that they were not in cute/romantic Paris location. There was nothing near our 'Paris' hotel besides other hotels geared for tours and other industrialed buildings. Our hotel 'near' Lake Lucerne was in a really small town over an hour from Lake Lucerne. We spent two nights there with our meals served cafeteria style every morning and night. (Pasta) The hotel had seen better days and had an industrialized kitchen to serve big groups. Our hotel in Munich was modern and huge, accommodating many tour groups. We were not allowed/encouraged to leave the premises. The bus took us into Munich each day.
3. The food for a tour was okay. The kids were expecting better in Paris because of the huge emphasis we Americans put on the elegance of French cuisine. So in that regard, it was disappointing. The food in Switzerland was served "camp" style with pasta both nights. Our group of 40-ish kids stood in line every morning and night for food. (Note. My group was about a dozen but on these tours you are put in groups of 40-50 with only one tour guide.) We had one memorable dinner at a restaurant outside of Munich. The owner greeted each one of us and served us a German dinner. He also entertained us with information about Bavarian customs. This was probably the most educational information we got on the whole trip.
4. Our tour guide was not a tour guide. She did not present much educational information. She knew French and German but seldom used it. Her main job was getting us from one place to the next either by walking, train, bus or metro. Taking 40 people on the metro at rush hour was a nightmare. This was the night we visited Montmartre. Also, we were chastised for stopping for water or going to the bathroom. Time for these necessities was allocated to our 'free' time. Our tour guide also did not know where bathrooms were, water locations, ATMs. So a lot of our free time, of which there was not much, was spent searching for these things. If anyone was late getting to a meet up location after free time, she was quick to make derogatory comments about them. I don't think she was being mean, but I think she was just worried about getting us to our next place on time. She did not deserve the 'EF recommended' tip, which is a big rip off.
5. Busses are the main mode of transportation because we were lodged far from everything. Many times our busses were not on time. We were left at the Eiffel Tower for 3 hours by our tour guide. We all met at the designated place at the correct time. Our bus was over an hour late to pick us up. Not so bad you say. Ha! We were not allowed to leave the spot while rained drenched everyone of us!!
6. Our extra Paris Boat Ride tour got cancelled at the last minute. No explanation was given.The extra Versailles tour was expensive but the expert tour guide was awesome. Our tour included a Sunday and a religious holiday which meant a lot of things were closed including museums. We had to provide our own entertainment at our expense. We paid extra for a bike tour in Munich because there was not much else to do during the religious holiday. BTW this religious holiday in Germany is not an American holiday so we did not know that we would lose a day of shopping before we went.
7. Our seats for our group, which we did not get until a few days before our flight, were not together. This was true for all our flights. Some kids were seated alone far from the group. All were scattered within the cabin which made it hard to keep the group together and help with getting luggage into overhead compartments. I'd like to note that there were many kids in our group who had never travelled overseas.

In summary, this tour is overpriced for what it is. You can definitely do this on your own for the price and have a more enjoyable experience. There was a lot of time spent on busses. Too much time being herded from one place to another. I understand that EF wants to have kids experience as much as possible but I believe in quality over quantity. I believe that kids learn more about a culture by actually spending time and not being rushed. I also think that these tours are not educational. Ps. I did enjoy seeing Versailles which was an extra optional tour offered by an expert tour guide. The last time I was in Paris my daughter and I did not have time to see Versailles so this time I jumped on the optional tour even though it was a bit overpriced. My other enjoyable moment was climbing the Eiffel Tower with my daughter in the rain. It was devoid of crowds and the rain made for spectacular photographs. These were my highlights of the trip.
Great Experience
Overall, the trip was great! It was my daughter's first trip to Europe and she had a lot of fun! She had two complaints. 1) 2.5 days in Paris is not enough. If the time is limited like that then less is more. It's impossible to see all of the sights, so just see a few and have more down time. She would have much preferred to explore and try local cuisine then be jam packed into a schedule. Which brings me to 2) The food. She was disappointed (and so was I) that they did not try many local foods. They were in Paris for goodness sake and there were no fresh bread, pastries or crepes! The food was repetative and underwhelming.
Amazing
Shaperones took the worry of being abroad. Tour guides where amazing. Locations where beyond expectations.
Memorable experience
Accompanied my son and his school on this wonderful adventure. Out tour guide Ben was absolutely amazing and made everything memorable. Hotels were standard, except the one in Germany which was fantastic. The dinners could have been better, especially in Paris. The kids were all hungry later in the evening. Overall would recommend this experience to anyone!
Beyond my expectations, wonderful experience!
This was my first time traveling abroad, something I dreamed of as a student and I was so happy to share this trip with my son. It was educational and fun for both of us! Doubly for me, as I had a youthful perspective alongside mine own to enjoy and learn about history and other cultures.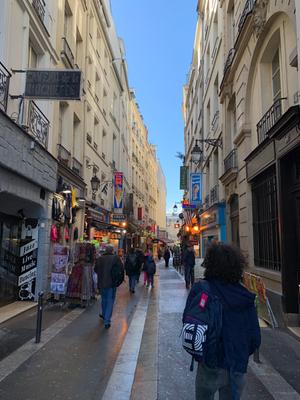 My first tour was a WONDERFUL time!
I had a great time on my first EF Tour. This was my first experience abroad and I was able to learn along side my students, which was great! I liked how everything was planned out for us, but I wish there had been more time to experience the local culture, including shopping, eating, and walking around. The group meals were not super great (EVERY night we had pasta and starches, but not really anything that was local to the country we were in). Our TD was knowledgeable, helpful and kept us on track. Our local guides were a wonderful addition to the learning aspect of our trip (it's great to hear tidbits from locals). At times it was difficult to travel in a pack of 50, but somehow we managed and even started to get to places early. I wish we would have had more time in the Swiss Alps, as I LOVED Zurich & Lucerne. In Munich, I wish we would have been able to stop at Olympic Park, but for the most part, I had a GREAT time and can't wait to go on my next tour!