Beijing, China
We had a wonderful time and learned so much. The students were able to place all that they had learned of Chinese history into its current cultural and historical context. Our guide, XIN, was exceptional and my students really loved every minute.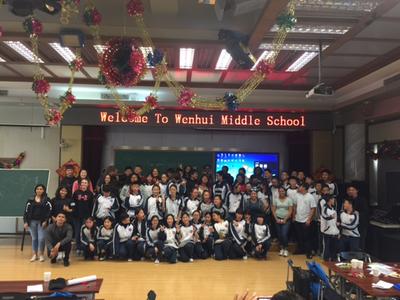 <3
I really enjoyed this trip. It was a great choice for my first travel abroad. My favorite part was the school visit. When I saw the banner they put up, I felt like a celebrity! I also really enjoyed teaching the students about something. Especially since I would've expected them to know about that particular subject... x3 Anywho, my least favorite part was the Birds Nest. It was freezing outside, and I hated it! Not to mention, it was really boring to look at, once we got inside. We had way too much time there. The Legend of Kung Fu show was amazing! If you're looking for an excuse to go to China, here it is!!! I feel like 3 hours at the Forbidden City was a good amount of time, enough that my feet started to hurt, but I also got a decent look at the city. The Great Wall... I feel like we were there for _plenty_ of time, but I also feel like more time would've been nice. The Temple of Heaven was boring. The Lama Temple... I don't think we needed quite that much time. Overall, though, I loved the trip. I'm glad I was able to take part!
Totally Awesome
Our tour of China and the Great Wall was awesome. Our tour guide was entertaining and extremely knowledgeable about his home country. I learned so much about Chinese history and culture in 7 days; more than I thought was possible to learn. This was the most educational trip I've ever taken in my entire life.
awesome trip
It was quite a culture shock on arriving in Beijing. Tour director was friendly, and helped us through language and cultural differences. It is a place of paradoxes; modern, yet ancient. Great overall experience.
BEAUTIFUL EXPERIENCE
MY CHILD WAS TOTALLY AWWWD BYT THE EXPERIENCE. THE FOOD, THE PEOPLE, JUST THE WAY OF LIFE AND CULTURE. SHE HAD FUN BARTERING WITH THE VENDORS AND JUST LEARNING. IF IT WASN'T FOR EF TOURS MY CHILD WOULD NEVER HAVE GOTTEN THE OPPORTUNITY TO DO THIS. IT SEEMS LIKE IT IS A LOT OF MONEY BUT FOR WHAT YOU GET IT ISN'T. SHE HAD SUCH A GREAT TIME SHE IS GOING ON THE TRIP TO AUSTIA, GERMANY & SWITZERLAND.
Wonderful Experience
The trip to Beijing and Shanghai was absolutely amazing! I had the best time learning the culture, going to different venues , and connecting with other people from around the world. Although , I did experience some inconveniences. The hotel chosen for us to stay in Beijing did not satisfy me at all. I feel like you all can pick a better place for travelers to stay in Beijing. I highly recommend that you all pick another hotel for future travelers. Other than that, the trip was great !
Wonderful time
I was so much fun and so informative.
Awesome!!!!
Amazing experience! EF Tours did a great job from start to finish. I would definitely use this company again and also highly recommend it to others. The only request I would have is to stay at a higher quality hotel. The hotel was outdated and poorly kept.
Unexpexted Amazing Experience
I have to say I was very skeptical at first about traveling to China. We had an amazing experience and we were completely surprised by all the wonderful sites we visited. The fact that we learned so much about the culture and how the other side of the world lives is an experience I will never forget.
Beautiful Beijing
We were extremely lucky and saw the city with only 1 day of smog the entire trip. Along with this there is a lot to see. We were moving the entire trip but there still seemed to be a good balance of free time. There were some nights that we finished early but that gave us free time in the city to explore. We found some really great restaurants during this exploration time. I would have liked more free time and autonomy at the zoo but that was a very minor problem. We had plenty of time at all of the major attractions and everything was done very well. Our guide (Coco) was great and really connected with the students very well. This was my first trip with EF and I was very impressed. It seems like this trip is a result of reacting to good feedback.