Great fun in Europe
This was an amazing trip. We saw so much in the amount of time we had. My only complaint was the hotel in Paris, not a good experience. It should be taken off the list.
The sites and cities were gorgeous and we were blessed with incredible weather. The students had a lot of fun and I am sure this will be a highlight of their childhood memories.
Aweful
I was totally impressed by our tour director. He was absolutely amazing. I would highly recommend him to any group.
I was NOT impressed by our Group leader however, she was not prepared for this trip. She brought her special needs son with her, who had melt downs on a daily basis. He made the entire group ill at ease with his antics. Luckily our kids fell in with another group of kids and enjoyed the tour. I, however, was not that lucky. I felt obligated to stay with her and her son which made my trip HORRIBLE.
Life Changing Experience
I had an amazing, great, wonderful time. It was one of the best things I've ever done in my life! So much culture, history, people, and great food! I loved every moment. I cried when I saw the Eiffel Tower. I never thought I would ever see Europe. I am very grateful and blessed that my friend and colleague asked me to go with her. Every day was a new adventure. Our tour director and local tour guides were very knowledgeable and taught me so much. I honestly have nothing negative to say. Thank you EF for an amazing, eye-opening experience!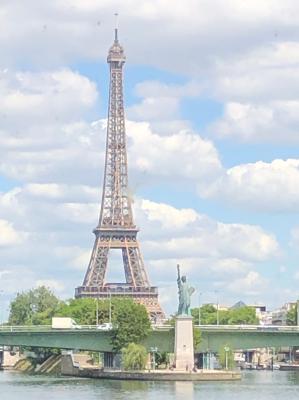 Whirlwind of European Cities
The European Quartet was a whirlwind tour that zipped through the cities of Amsterdam, Brussels, Paris, and London. We saw all the major highlights and iconic sights but little time is left to relax and soak in the culture due to a crammed schedule and travel time to and from the hotel. Once in Paris and London, we no longer used the bus and relied on the subways and trains. Plan to walk and walk and walk. My students even joked that the restaurants which we were told were "around the corner" felt like they were 3 miles away. Also know that in Paris and London because there is no bus, your group (after a full day of sightseeing) will have to navigate the subways and then walk
a distance back to your hotel. As an experienced traveler, this tour with some of the accomodations and scheduling was too rushed or out of the way for my tastes, thus wasting valuable time in transit rather than in the city. Students enjoyed the cities and we had no safetly issues, so that was a plus. Just know that you won't get to the hotel until late at night and there is very little time to do anything else than what is listed on the itinerary. The only "free" time is if you don't do the optional excursions and then your group will stay in the city instead.
If you or your child has severe food allergies bew
I am a mother who went on this trip with my child who has 2 major food allergies. We were told multiple times by EF tours that there would be accommodations for her everywhere we went. Well that was not the case. And had I not been there I don't know what would have happened. Only two dinners went off without incident. One night in France, we tested the "safe food" with our food tester 4 times, which is expensive in itself!, before they brought my child a bowl of roasted zucchini. That's it. Zucchini. Our tour guide graciously went and personally bought her a meal from down the street that was safe so she could eat. One of our lunch stops was a fisherman village that NO one would serve her!! Even though the menus said gluten free they said they wouldn't prepare anything. And eating in two truck stops with food allergies isn't exactly ideal either.
The point is, if you have a child with food allergies, please please think about this. If your gut feels too good to be true, it is. Considering food is included in our price and she rarely got to eat what was provided, was a big disappointment.
4 cities/8 days
Overall the trip was a success and the kids (and parents/chaperones) had a wonderful time. There were a few things that I think could be improved. For instance, the trip is not really 8 nights and 9 days. 1 night is spent on a plane, we didn't leave until 8:30 at night (although this was counted as a day) and we woke at 4:00 to travel home (this was also counted as a day).

In addition, the dinners are pre-determined and everyone eats the same meal. They were small, marginal at best and in my opinion didn't really represent the city we were in. It seemed like it was about saving money and not enjoying a meal as a group in a large European city. Plus, the restaurants were focused on getting us in and out with poor service the majority of the time because they are getting paid regardless of their service. Most restaurants didn't even serve us tap water because they wanted to make money on the customers needing to order and pay for their own beverages, adding to the traveler's expense. The best meals were those purchased each day which added a considerable amount of expense to an already expensive trip.

On the positive side, our tour guide that stayed with us all week was wonderful and great with the kids. That was really the best part of the trip.
Awesome!
What an amazing adventure!! Lots of neat stops and a great tour director! Enrico is the best!
Incredible!
We did 4 European countries in 7 days! It was amazing all we were able to see! We had excellent town tour guides and wonderful drivers. I would do it all over again!
Great Trip
Great tour to see a lot of countries and experience their history and cultures in a short time frame. One thing I didn't like was travelling with another school group of older kids who were older and not very nice. The other group did not follow the rules and didn't set a good example for our group of younger travelers. I would not like to travel with an age gap like that again. It was awkward.
Memories
Our tour director was wonderful. Paris was very rushed and there was not enough time to fully appreciate being there. Better planning (advanced tickets, leaving hotel earlier) would have enabled our group to actually enter Notre Dame (instead of just spending 15 minutes outside of it) and experience the Louvre (our allotted time to visit was one hour and we were expected to use the restroom and eat lunch).