Amazing trip!
I throughly enjoyed this trip! It was a lot of fun and we got to see lots of amazing things and learned so much about the culture!
Lifetime Experience
I enjoyed my Spain trip so much. I learned about the culture and the history of Spain. The EF tour guide was awesome.
Great trip
Great tour guide, great tours. Unforgettable experience. The days were full of amazing tours. I would never have seen as much as I did without EF Tours!
Great experience
Spain is a great country with a lot of interesting things to learn and with a great culture.
Staying in Madrid for 3 days, not that necessary. We needed to stay longer in Granada and in Sevilla.
Compostela suites in Madrid ok, but too far away from the civilization. (close to the airport)
Leonardo Hotel in Granada was good . Great location
Sevilla Congreso was the best . Access to everything and great accommodation. This had similar customer service standars as in the US. It was great to be there.
Hotel in Malaga for three days , not good. Tiny rooms and awful customer service. Food was good and location was good too.
Spain Tour Guide was awesome, but some corporate arrangements were not smooth behind the scene.
Amazing Experience
My overall experience of the EF Tours excursion was incredible. Not only was our tour guide incredibly welcoming, informative and accommodating but the people that I had the pleasure of spending nine days with made the journey that much better. I fell in love with the environment, the architecture, the history, the locals and the culture. I especially loved the free time where my group and I would venture into the little nooks of Spain and have our own little adventures! There was nothing that I disliked, because why focus on minor negatives when you can bask in the amazing opportunity of being on a different continent!
Perfect Trip
Adventures in Spain was an amazing experience. This was my first trip with EF and it only confirmed all of the positive reviews I had read. Our tour director was outstanding. He was very knowledgeable about all of the sites and cities we visited. He connected well with the students as well as the adults on the trip. The lodgings and meals were great as well. There were no issues at all during the trip, everything went as planned.


I cannot wait to take another EF tour with my students. It was the trip of a lifetime.
Third Time on this Adventure!
I love this trip! I have travelled with EF on this itinerary 3 times now: twice as a group leader and once when I was a student in high school. There have been some small differences each time, but the important things have stayed the same: amazing tour directors, the perfect balance of structure and free time, and the engagement and amazement of students.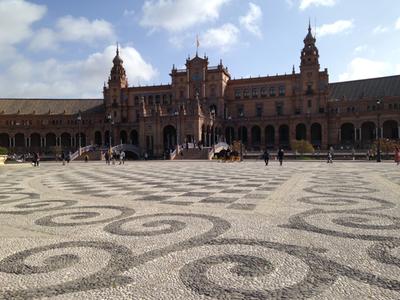 Perfect!
This trip was definitely a trip of a lifetime. Spain was just so beautiful and EF Tours planned each day perfectly! I would love to do another EF Tours tour in the upcoming years. Each day had something new to look forward to and was full of amazing adventures. This was such a great adventure to share with not only other students but teachers and adults as well. I never thought I'd enjoy seeing so many agricultural sites and art, but seeing them was probably my favorite thing from the entire trip. I absolutely loved seeing La Alhambra, Gibraltar, Don Quixote Windmills, and especially the Royal Palace. Traveling has always been something I was fond of and when Spain was something EF Tours was doing a trip to, I didn't have to even think twice about signing up and going. I am glad I had the opportunity to go and I hope that soon I will be able to explore other parts of Europe with others.
Be Careful
Our tour was very complete but started out unsatisfactory. We were booked in a resort in Malaga with a Spanish Soccer League. First two of our chaperones were verbally and almost physically assaulted because the front desk overbooked a room. Our tour guide was amazing in rectifying this problem. Then the soccer boys climbed balconies trying to get into our girls' rooms. Finally, the younger boys were running up and down the halls screaming all night. Thank goodness things changed once we left Malaga.
Great tour!
The tour was very fun! I enjoyed sight seeing and the walking tours. Our tour guide was absolutely delightful, and her kindness really made the entire tour. I thought the itinerary was action packed and fun. The only thing I would've changed was being able to choose my own food for the meals.