Great Spanish Enrichment
It was a great tour with my middle school! We were never bored and learned so much! I was able to apply what I learned in spanish class and ate lots of great food. It was not a scary experience going without my parents either.
A Wonderful Experience!
The Adventure in Spain exceeded our expectations! This was my first tour as a group leader, and I was very impressed with the entire tour. My nine students loved Spain and look forward to returning one day. My students especially liked the tours to Toledo and Gibraltar, and the zambra flamenco show in a cave in Granada. After the flamenco show, a local guide took us to see a stunning sunset on the Alhambra. Our tour director was wonderful! She was knowledgeable, hard-working, and caring. She made sure the restaurants and hotels were aware of my students' food allergies and dietary restrictions. My students made friends with students in the other two groups, and enjoyed meeting students from other parts of the US. We all returned with hundreds of beautiful pictures and memories of Spain and Gibraltar!
Cool sites
We visited a ton of very beautiful sites and a lot of historical places which appealed to me. We had a bit of an issue because my high school group was put together with a middle school group from across the country. This mix didn't work too well.
Spain 2019
Overall, great experience! Spain is a beautiful country with so much history. Learned a lot and felt like we got the chance to see the best of what Spain had to offer.
Great experience
Had an amazing trip. Did have to switch guides twice cause they didn't know what they were doing. Even missed two outings because of it but over all had a great time! Lots of fun and lots of things to see.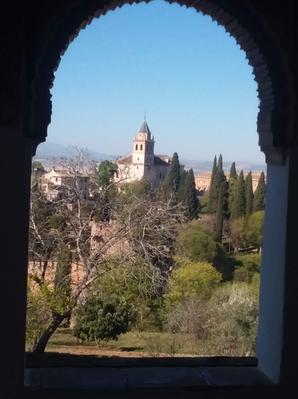 Wow! What an experience!
I was very impressed with EF tours on my trip to Spain with my daughter and her Spanish Club. The tour director met us at the airport and was with us the whole time. I felt that he absolutely had our best interest at heart. He was from the area surrounding Madrid and knew first hand about the culture and areas that we visited. The kids (11th and 12th graders) LOVED our guide. Every day was spent seeing different sights in Spain. We had an outline of our itinerary ahead of time, but it wasn't so rigid that we felt rushed. There was definitely a lot of walking, and we knew that ahead of time. The only complaint I have would be the food. Dinners were served in local restaurants in a group style where the menu was planned ahead of time, and usually included a soup, meat, and potato or rice. I felt that it was lacking in vegetables, and flavor! Very bland and really almost like cafeteria food. Part of this is because they wanted to avoid foods that people may be commonly allergic to. Other than that, I feel that it is the best experience that my daughter and I could have hoped for.
Spain with EF
Ef was great about accommodating the needs of my students. They were a fountain of information and knowledge for my students to glean from. There was variety and a lot of safety measures were used constantly. The trip was life-changing for my middle school students.
Disappointing Overall
We have travelled internationally as a family quite a bit over the years, which may be why this trip seemed so insufficient and underwhelming. EF is a a well-known player in the industry--but it really felt like a 'factory' experience from our son's report. The students were over-structured in mass tours wth 'cranky' and 'rude' tour guides. Apparently, many elements the students were looking forward to were cancelled at the last minute with no explanation. Many of the meals were 'low budget' for a mid-high budget pricetag--this suggests EF is maximizing profits while minimizing in country experiences. Overall, very disappointing and not a good value for the money. You can do much better on your own with a smaller group organizing unique and inspiring sites for MUCH less money.
Non-stop Adventure!
Adventure in Spain is a busy, fast-paced tour that allows you to see the many sides of Spain from crowded cities to lonely countrysides. It was a whirlwind tour of Spain, with every day positively overflowing with historical, cultural and artistic highlights.

Personally, I would have enjoyed a bit more downtime (which is the only thing keeping me from giving a 5-star rating). But if you are the type who prefers to be constantly on the go and always doing something new, this is definitely the tour for you! I came home completely worn out and exhausted, but also with over a thousand beautiful photos and just as many wonderful memories.

I was very impressed with the quality of the hotels and the impressive knowledge and skills of both our EF Tour Director and our various Local Tour Guides. They really kept the kids engaged, learning and entertained. I learned so much about the history and modern customs of Spain on this trip. This is my 4th time traveling with EF over the years (first as a student, then as an adult and now as a parent) and I have never been disappointed! Highly recommended!