2017 Global Citizen Scholarship
Explore the Future of Food on a free trip to Europe
In July 2017, recipients of our annual Global Citizen Scholarship will travel for free to our Global Leadership Summit addressing the Future of Food. Selected students will experience Europe through the lens of food and collaborate with other globally-minded students at the two-day leadership conference in Milan, Italy, to design solutions to help feed our growing world -- and compete for a chance to have their idea featured in the Nobel Museum in Stockholm, Sweden.
Check out the highlights from last year's Summit to see what all the hype is about.
Food excites us, brings us together, and ultimately sustains us. And yet people all over the world struggle daily with food-related challenges such as extreme hunger, obesity, limited access to healthy food choices, and food waste.
As we struggle to find solutions to these challenges, we also struggle with divisive views on sustainable farming and innovative food-processing techniques. Finding a solution to food production and consumption challenges us to examine how the future of food will impact our world.
With that in mind, create a video, digital media project, or essay that addresses these questions:
1. Think about food issues you see in your community, as well as across the globe.
Which one is most significant to you? Why do you feel strongly about it?
2. Share one idea you have for addressing this issue.
What impact will your solution have in your own community and around the world?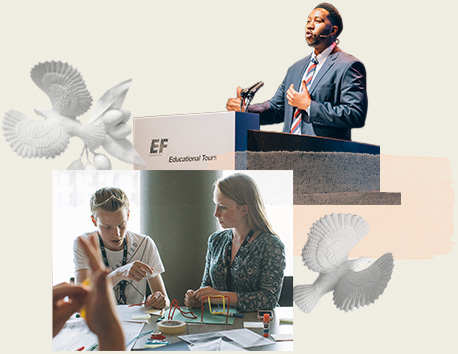 An opportunity to help change the world
The Global Citizen Scholarship is awarded annually to students who strive to be global citizens in their daily lives and demonstrate a commitment to tackling global issues. Check out this year's winners for inspiration.
Sponsored by the EF Global Classroom Foundation