Price valid until 11/30/2017
Student
$3,514
or $214/ 16 mos
Adult
$4,014
or $245/ 16 mos
Airfare & transportation

Hotels

Regional-style meals

Guided sightseeing

Entrances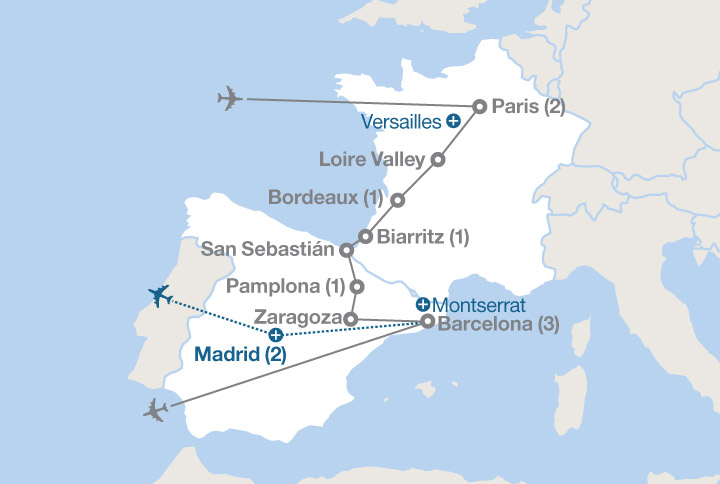 Fly overnight to France

day
1

Meet your Tour Director at the airport
Visit the Louvre

Take a walking tour of Île de la Cité

Take a guided tour of Paris

With your expert local guide you will see:

Place de la Concorde
Champs-Élysées
Arc de Triomphe
Hôtel des Invalides
Eiffel Tower

Versailles

Enjoy an excursion to the grand palace of Versailles, where Louis XIV held court in the most lavish style imaginable. On a tour, stroll through the elegantly landscaped gardens, the historic Hall of Mirrors, and the ornately decorated State Apartments. Note: Versailles is closed on Mondays.

Visit Notre-Dame Cathedral

Paris • Loire Valley • Bordeaux

day
4

Travel via the Loire Valley to Bordeaux

Visit the Château de Chenonceau

Bordeaux • Basque Coast

day
5

Travel via Arcachon to Biarritz

Take a tour of Dune du Pilat

Take a tour of Biarritz

Basque Coast • Pamplona

day
6

Take a tour of San Sebastián

Take a walk up Monte Urgull for some beautiful views

Take a guided tour of Pamplona

With your expert local guide you will see:

Plaza del Castillo
Pamplona Cathedral

Pamplona • Zaragoza • Barcelona

day
7

Travel via Zaragoza to Barcelona

Visit Basílica del Pilar

Take a guided tour of Barcelona

With your expert local guide you will see:

La Sagrada Família
Gothic Quarter
Park Güell
Montjuïc

Visit Park Güell

Take a walking tour of Las Ramblas

Barcelona flamenco evening

Feel the pulse of Spain when you attend an unforgettable flamenco performance! Born of Indian, Moorish, Arabian, and gypsy influences, flamenco dance is a passionate display of dramatic poses and colorful costumes, accompanied by song and guitar. Marvel at the intricate rhythms created by a dancer's steps, castanets, and clapping. Note: A beverage is included during the one-hour performance.

Montserrat

Journey northwest of Barcelona on a half-day excursion to Montserrat. Its mountain setting provides a dramatic backdrop for the 9th-century monastery whose basilica houses the Black Virgin Mary of Montserrat. Legend has it that Benedictine monks could not move the statue to construct their monastery, so instead they built around it. You may even hear the renowned boys' choir during your visit.
Price details
Price valid until 11/30/2017
Student
$3,514
or $214/ 16 mos
Adult
$4,014
or $245/ 16 mos
Program Price

$3,285

Weekend Supplement

$35

Global Travel Protection

$165

Flamenco Evening Barcelona

$70

Montserrat

$60

Versailles (pre-book only)

$99

Early Enrollment Discount

-$200

weShare – Personalized Learning

$0
For every 6 paying travelers, 1 chaperone travels free.
Airfare & transportation

Hotels

Regional-style meals

Guided sightseeing

Entrances