A LOVE OF JAPAN, MADE IN AMERICA

—
It was 2014, and 29-year-old Carly Buxton was lounging in a Japanese sentō bathhouse, completely naked. The Virginia native and Ph.D candidate had just moved to Tokyo on a Fulbright Scholarship and was, quite literally, soaking up the local culture. At these communal spas, which have separate sections for males and females, the dress code happens to be au naturel. But this activity wasn't always in Carly's comfort zone. When she dipped into the revered tradition of sentō during her first visit to Japan more than ten years earlier, she was so nervous that she thought she would melt. But eventually, the practice became part of her regular routine.
So how did this shy American end up feeling so at home in a location nearly 7,000 miles away?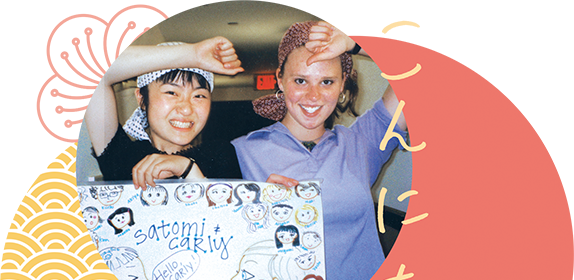 A whole new world
Carly's passion for Asia began as a child, when she received a package from her grandmother who was traveling in China. A silk nightgown, notes in Mandarin, dirt from foreign lands, a paper fan—each item that she pulled from the box stirred a sense of wonder within her. Carly idolized her grandmother for her unapologetic sense of adventure and disregard for the expectation that, as a woman, she should stay close to home.
From that day on, Carly wanted to escape to Asia herself. She imagined that she would find a different world, different rules, and a different Carly beyond the borders of her hometown.
But can you really escape where you're from? Carly struggled to answer that question her whole young adult life. That is, until she met Satomi, a Japanese exchange student.
Cross-cultural connections
A little more than a decade after receiving the souvenirs from her grandmother, Carly noticed a poster in her high school that advertised a Princeton University program for American and Japanese high school students to learn about each other's lives and cultures. This program, she knew, was meant for her.
Her family hosted Satomi, a Japanese teenager who, as Carly describes her, could not have been more like her. She was bubbly, curious, and came from a traditional town where she felt like a misfit. Carly instantly felt a strong friendship between her and Satomi.
As her family introduced Satomi to their hometown of Richmond, VA, Carly was able to see her community with a fresh perspective. One of their favorite memories together, a familiar activity to Carly but a foreign one to Satomi, was a cookout that Carly's older brother organized, followed by a ride in the back of a pickup truck to get Slurpees.
Thanks to Satomi, Carly realized that culture and identity can be cause for celebration or frustration regardless of geography. She would make it to Japan one day, she was sure of it, but it would no longer be an escape.
Home away from home
Carly visited Satomi in Japan the following summer in 2003, right after she graduated high school. The visits haven't stopped since—Carly studied abroad in Japan during college, moved to Tokyo for Ph.D research, and still regularly travels to the region for her job as a tour designer at EF. She found that the simpler pleasures were the travel experiences she cherished most, just as Satomi had during her time in America. In 2005, when Satomi and her mother took Carly to a sentō in the mountains near their hometown of Sendai, she finally understood the social and familial importance that sentō holds in Japan. "It's not a practice in America to get completely naked and just hang out with your buddies, but once you get used to it, it's relaxing and fun." The more Carly embraced the customs of Japan, the more confident she became.
Now, the girl who once felt like an outsider feels a sense of belonging on two continents. "There's a sign in the Tokyo airport that says in English, 'Welcome to Japan,' but in Japanese it says, 'Okaerinasai,' or 'Welcome home.' And Japan really does feel like a second home to me."
Through her exploration of another culture, Carly gained an appreciation for the hometown she had once taken for granted. But, leaving her comfort zone also helped her truly discover her identity, and led to lifelong connections. Carly and Satomi both have young daughters of their own now, and they can't wait until their future curious travelers are old enough to spend summers in each other's native regions and develop fresh perspectives of their own.
---
Tune in for more of Carly's travels
---