THE ACCIDENTAL ADVOCATE

—
Anthony Bourdain has reservations about being described as an activist or an advocate. "I'm nothing but an enthusiast," he'll counter, disclaiming the responsibility that comes with these roles. But spend any amount of time listening to him and you'll see that activism and advocacy are at the heart of who he is. Even if he's reluctant to acknowledge it.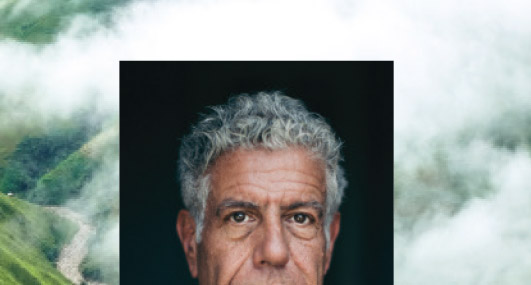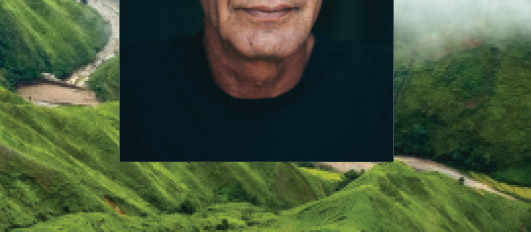 Anthony Bourdain bounds up on stage at a conference center in Milan, Italy looking every bit the part of a chef-turned-TV-personality. His uniform of jeans and a black T-shirt reveals enough tattoos to hint at a backstory of a life spent in restaurant kitchens and, for the past 17 years, traveling to more than 120 destinations.
"I have hung out with Iggy Pop, authors, despots, farmers, hustlers, sex workers, survivors, victims, and oppressors all over the world," he proclaims during his keynote address at EF's most recent Global Leadership Summit. "I am probably the only person ever to have had a nice meal with both President Obama and Ted Nugent. Not at the same time, I assure you."
The audience of 2,000 students and educators laughs, immediately taken with his brash brand of storytelling. Bourdain begins to visibly relax and settles in to do what he does best—shine a light on issues and destinations from the familiar to the obscure, and encourage his audience to open their minds.
Not yet a seasoned traveler
Growing up in a bedroom community in New Jersey, Bourdain regularly escaped to foreign lands and exotic locales through reading. "I read books and imagined them in a very visual way," he recounts. "Reading Moby-Dick, I could picture that. I wanted to be on that ship." But it wasn't until he was in his mid-forties that he began to travel for real. "I had seen nothing of the world," he laments, "and long ago given up any hope of satisfying those childhood dreams of adventure and exploration…of seeing Vietnam or Japan or even Rome. These were unthinkable destinations." But suddenly, everything changed for him.
With the publishing of his self-described "obnoxious" first book,
Kitchen Confidential:
Adventures in the Culinary Underbelly
, Bourdain was surprised to find a global audience clamoring for more of his perspectives. With offers to host shows on the Food Network, and later on the Travel Channel and CNN, he found himself with "the best job in the world. I get to satisfy my curiosity. I get to go anywhere I want. I sit with my friends drinking beer, looking at a map, saying, 'Where do we want to go and what do we want to do when we get there?'"
— 
"That's what I've been doing ever since—walking in ever-larger concentric circles around my comfort zone." 
—
Finding a new comfort zone
But going from 0 to 60, in terms of traveling, wasn't easy. With a limited understanding of the world, Bourdain found exploring new places something of a challenge, albeit one he embraced.
His first extended trip abroad was to Tokyo, where he knew no one and didn't speak the language. Bourdain recalls what a struggle it was simply to comprehend everything he was seeing, to get around, to feed himself. "But I liked that feeling of knowing nothing, of being forced to learn every day," he says. "And essentially that's what I've been doing ever since—walking in ever-larger concentric circles around my comfort zone."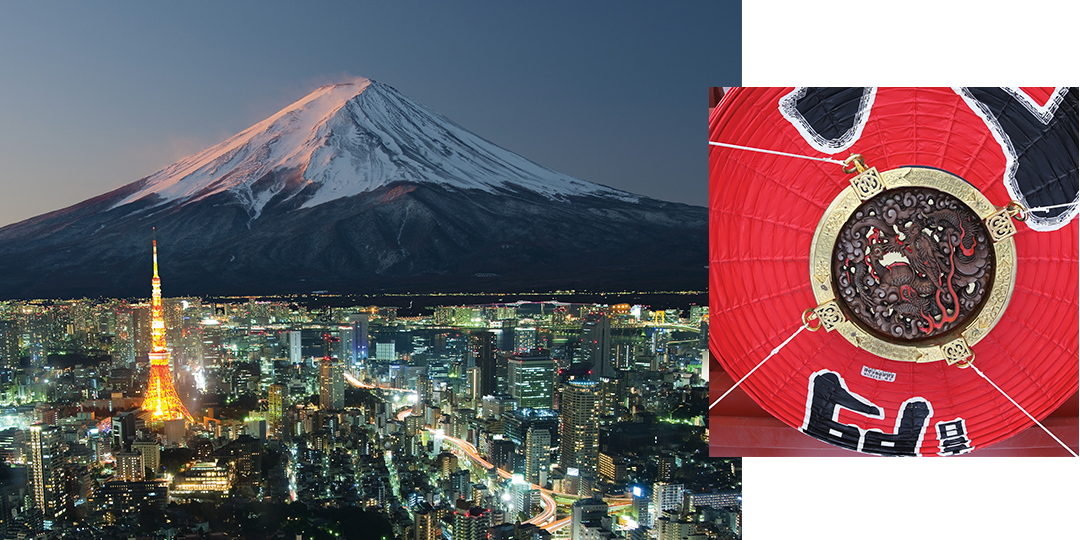 A view of Mt. Fuji from Tokyo, where Bourdain first traveled extensively.
Quickly, he began to crave what he describes as that "feeling of triumph" you get from overcoming a seemingly impossible obstacle. The first time he was able to sit down in a noodle shop and communicate well enough to order a meal, "I felt good about the world. I felt like I'd accomplished something."
Communicating through food
As a chef, Bourdain recognizes that food is the ultimate opening line of communication—one that can help turn travel from a self-contained experience into a shared one. Today, despite not understanding the language in many of the regions to which he travels, Bourdain always manages to find common ground over a meal with locals—even if he's sitting down with "perfectly nice people who at another time would have cheerfully killed me."
These meals and conversations have made him more empathetic, he says. And not just toward people who clearly need empathy, like the hungry or the oppressed. "I spend a lot of time with people who say things and believe things and practice things that, if they were to bring up at my dinner table in New York, I would probably throw them out of the house. Again and again, I accept the hospitality of people who have religious, or behavioral, or traditional, or cultural practices I find personally repellent. Who maybe treat animals differently than I would. Who see my country as an existential enemy. Who have racial views that are appalling to me…It's easy for us to go to a place where their views are very different than ours and say, 'Wow, that's really awful. You should change that.' But that's kind of the end of the conversation right there."
Instead, he says, it's important to be a good guest. To listen. To be open to the experience and the conversation and to accept people for what they are willing to give you.
So he treats every meal as a conversation. "If you go to somebody's home and they offer you food, they are telling you about their region, their personal history, their heritage, their culture, whoever taught them that particular recipe. They're telling you about what makes them happy. They're saying, 'Welcome to my house. Let me give you something that gives me pleasure. Let me share with you.' If you are lucky enough to travel, you should listen to what they are saying."
— 
"I believe in the 'Grandma rule'—meaning when I go to Grandma's house, I eat what Grandma puts on the table." 
—
And being a good guest entails more than just listening. "As a traveler, I believe in the 'Grandma rule'—meaning when I go to Grandma's house, I eat what Grandma puts on the table. I may not like Grandma's food. It may even conflict with my personal beliefs. But I'm going to eat it," he says. "If I find myself in a rice farmer's one-room hut out in the Mekong delta and my earnest host suddenly appears with a platter of puppy heads, I'm gonna eat it. It'll be really tough for me. But I will eat anything rather than offend my host." Rejecting a sincere offer of food and hospitality, he explains, is tantamount to rejecting the person and their culture and everything their food represents. "It's very personal, food, especially in a situation where people have very little. They worked for that food. It means a lot to them. You're getting the best they have to offer."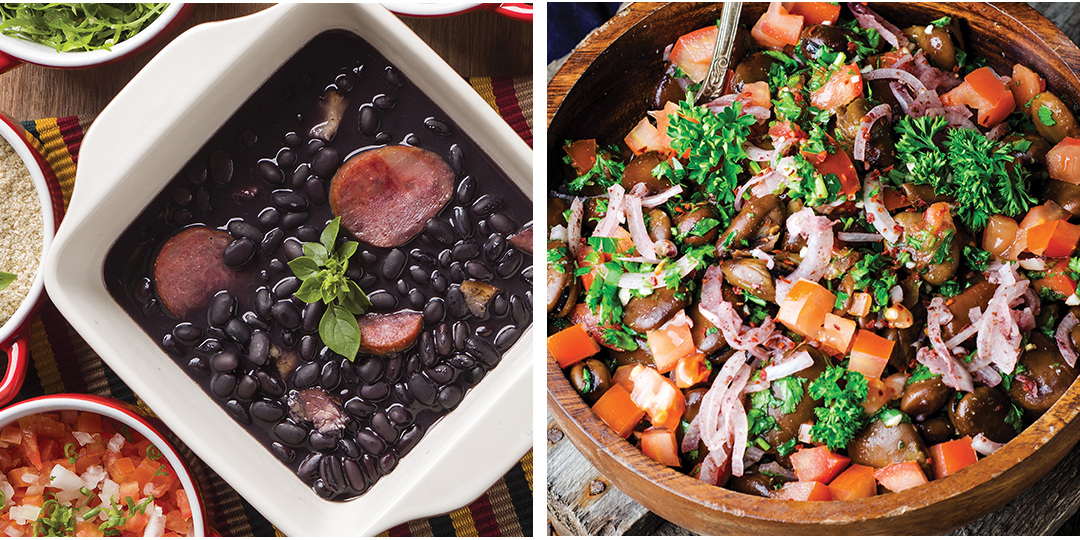 Left:
Fūl
is a staple Egyptian dish of cooked fava beans made with cumin, chili pepper, parsley, garlic, onion, lemon juice, and vegetable oil. Right:
Feijoada
is a pork and black bean stew considered a national dish of Brazil.
His determination to be a good guest has led Bourdain to be introduced to incredible dishes by hosts all over the world, from fūl in Egypt to feijoada in Brazil, the latter of which, he says, "originated as the scraps from the tables of the rich, leaving the poor to figure out, 'What do I do with these things?'" And figure it out they did, eventually turning an ingredient list comprised of leftover pig's feet, necks, snouts, and tongues mixed with black beans into a beloved national dish.
Never turn down an offer of a dish like feijoada, he urges. "If you say 'No, no, no,' you're not just saying, 'I'm not touching your food.' You're also saying, 'I'm not interested in pursuing any kind of relationship with you.' You've said a lot by saying 'Ick.'"
Lasting lessons from travel
Throughout his years of travel, Bourdain acknowledges he's been incredibly lucky. "I get to learn, experience, listen to people in countries that I used to only know from the news, to put a human face on adversaries." That's had an impact back home, as well. "I've learned to love my own country, or appreciate it in ways I hadn't permitted myself to before," he admits. "I'm a New Yorker, with all the predictable New York views on the world. But I am very, very comfortable in red-state America. I may not agree with you, but I still like you and respect you."
Bourdain knows maintaining diplomacy while interacting with people from different cultures can be challenging. Whether you're navigating competing politics in the United States or observing local dining customs in the Middle East, you need to do your homework, he says.
Learn at least the basics of hospitality in the places you're traveling to. Understand that if you go to a sushi bar in Japan, make a slurry of wasabi and soy sauce, and soak your sushi in it rice-side down, "you've insulted the chef horribly. He hates you now. That relationship is over," he insists. "This is an easily avoidable break in relations."
So how can you avoid such a break? Read, Bourdain suggests—and not just nonfiction. "Of course, find out about the place, the history, and all that. But pick a classic work of fiction by somebody who actually lived and spent time there." Like Graham Greene, a particular favorite of Bourdain's, an author he describes as "a professional traveler who [also] wrote." His novels give you a sense of "the smell, the personal dynamics, the atmospherics," he says. "There's always a novelist who kind of owns the territory and captured it in a unique and characteristic way, whether it's New Orleans or Boston or Saigon." So seek out those novelists, "but always check out Graham Greene first. He wrote books that take place in a lot of places, and they will enrich your experience."
— 
"I was not a particularly good person until I started to travel. But if you do it right, travel is going to change you." 
—
Travel changes you
For the past 17 years, Bourdain has spent up to 250 days a year traveling, and he's grateful for every experience he's had on the road. "I was not a particularly good person until I started to travel. But if you do it right, travel is going to change you—in ways that are both incredibly enriching and also the cause of some regret." After all, he explains, "there is a cost to really enjoying and appreciating the places you go. Your perspective has shifted. You cannot look at your old life the same way."
And that perspective, he understands, is what makes travel so valuable. Bourdain sees it as the great equalizer: Around the world, no matter how different cultures may seem, we have important commonalities. We all like to eat. We all want a safer world, and a better life for the next generation.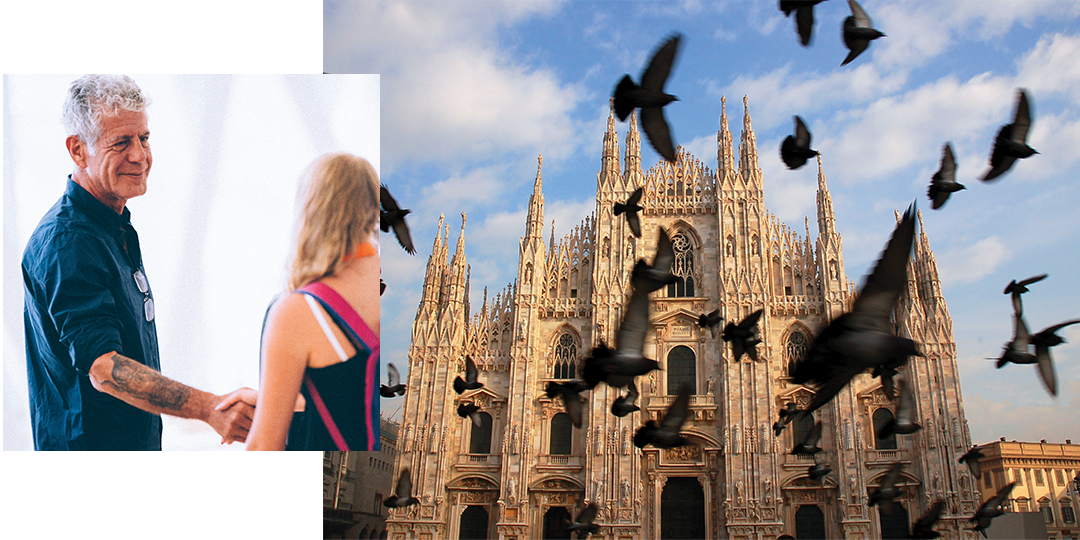 Bourdain encourages students to open their minds to new perspectives at EF's Global Leadership Summit.
Activism and advocacy, à la Bourdain
So Bourdain's claim that he's not an activist? Perhaps he's right, in the traditional sense. To be sure, he hasn't started a nonprofit organization, nor does he picket in the streets. But he repeatedly implores his audiences to take important actions. To be good guests. To put themselves in someone else's shoes. To be open to new perspectives. To explore the world in search of what makes us different—and what makes us alike. That sounds like activism at its finest.
So Tony, here's some friendly, unsolicited advice: Embrace your role as an activist for change, as an advocate for understanding. In the eyes of many, you already are.
---
Additional reporting by Shelby El Otmani and Meghan Martineau
---