EF's Global Citizen Scholarship Fund
Supported by the EF Global Classroom Foundation
Here at EF, our goal has been Opening the World Through Education for over 55 years. The EF Global Classroom Foundation is an umbrella for EF's charitable activities, which have included disaster relief in China, Haiti, Indonesia, Japan, Nepal, and the U.S., as well as providing funding to underserved communities for educational opportunities and educational tours.
With the support of the EF Global Classroom Foundation, our Global Citizen Scholarship Fund is designed to help open the world for more students than ever with $100,000 in annual travel scholarships. Each year, we will award $1,000 to as many as 100 students from around the country.
Learn more about the EF Global Classroom Foundation here, or see below for more on the travel scholarship for students.
1. Complete an online application
2. Create a two- to three-minute video to submit with your application
Your video should answer this question: How will this tour change the way you think or feel about the world, or act within it?
Have questions?
¿Prefieres leer en español?
Visite nuestra página de Fondo de Becas del Ciudadano Global.
/ / / / / /
All students traveling between January 1, 2022 and December 31, 2023 are eligible to apply for the 2022 and 2023 Global Citizen Scholarship. Deadline dates for applications vary depending on your travel date: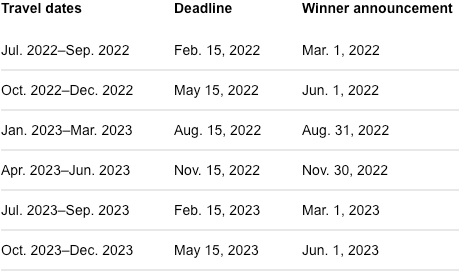 Meet our most recent winners
Aryal W., South Carolina

"To me, perspective is everything. It challenges our beliefs and causes us to grow as people." 

Traveling on

Italy, France & Spain
Looking for more details about the Global Citizen Scholarship?