Italy
trip was ok. Glad I didn't send my 17 year old alone.
Splendors of the Mediterranean
The quality of the food in most of the hotels needs to be improved- way more customer choices should be offered/available. The food in the hotels was very mediocre.
The length of the lectures from the tour guides needs to be shortened! If I, as an intelligent adult, get bored and antsy standing around just listening to someone yack, you know the kids aren't paying attention either. They went on and on all while we're all just standing around
PERFECT EXPERIENCE
Everything was perfect! Not one problem during 18 day trip with 37 students and adults.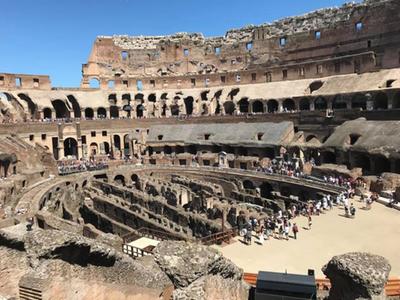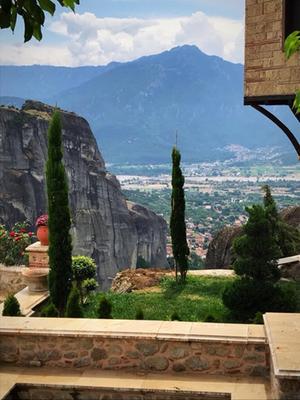 Italy and Greece
What an amazing way to see the highlights of Italy and Greece in the time allowed! Italy is very fast paced compared to the relaxed pace of Greece.
Awesome / Fun Tour, Well Planned / Well Run
Our daughter's World History teacher organized this tour with EF. Having never travelled abroad or with a medium to large group (37 travelers), I was uncertain what to expect. What I experienced was a wonderfully, planned, guided and executed trip. Things began with a few short meetings months and weeks before we left to get us focused / prepared / organized. Once there, our EF Tour Director worked hard to keep everything on track yet deliver an amazing experience. This tour is a "Shallow Dive" into the numerous spectacular sights of Italy and Greece rather than "Deep Dives" into any one location – by this I mean single days in places like Florence, Rome and Athens is not enough time to see everything and in detail, but it provides a great way to see many major sights and learn large amounts about the locations; this gives a great perspective and an ability to see A LOT, then wets your appetite to decide where you will return to in the future! It took a couple of days to get used to the tight schedule, but once in the swing of things, the efficiency and preparedness helped ease our stress and maximize the trip. EF / the Tour Director had almost everything covered and set up for us: wake up calls, what to wear, when to be at breakfast, when / where / how to have our bags ready to go and what time to be on the bus in the mornings (especially when we checked out of a lodging), where and what to meet time when we had free exploring time, what to expect during tours and free time (hot, busy, crowded, challenging terrain, how long to get thorough an area, etc.), when to leave items on the bus / at the room or carry with us, what to do if you got lost, general safety, ... At first the details and information almost seemed overwhelming and so strict, but after a day or two I realized I did not have to worry and knew exactly how to plan for each day and night - this allowed investing thought and energy into the tour and what we were experiencing rather than worrying about preparing and planning. Our Tour Director was great at repeating information enough but not too many times such that we heard and understood what we were doing or about to do, even in those times when we were not listening or distracted. She also worked hard to be personal and connect with us while keeping track of everyone, even when we were in the busy and stressful portions of our tour (like Rome and Athens where we could have easily had travelers get lost). She did a great job pacing the tours for our group that aged from 13 to 84. She also made a couple of tour adjustments that allowed us a couple of days to sleep a bit later and chill a bit and you definitely need an occasional break on an 18 day go-go-go tour like this! Almost all the local tour guides were wonderful - enthusiastic, knowledgeable, friendly and attentive to our needs. Our 2 main bus drivers were also simply fantastic - always friendly, answered questions, etc.
I don't really have complaints, but here are a couple of things that could be a focus to improve an already excellent tour: 1. In busy locations with a lot to do (Rome, Florence, Athens), it would be nice to have had options more in advance to plan for free time. Example, in Florence, we discussed what options we had the day before we arrived while on the bus, and we almost did not get a chance to see David as tickets were nearly sold out (those of us who wanted to go had to skip the dinner we had paid for as tickets were only available during dinner time – I would skip dinner ANY AND EVERYTIME to see David, but if we planned a bit more ahead we could have avoided the conflict; there were no advance tickets available the day prior for the Uffizi Museum in Florence – one had to hope the lines were not too long and that tickets would still be available when we got there if one wanted to go there). I do understand the challenge of too far advanced planning - sometimes the tour schedule changes, so if one has a ticket a week or weeks before the trip, it might not fit correctly into the schedule. Perhaps options and planning a few days in advance would be a happy medium. 2. A bit more details on what is acceptable to wear would be very helpful for packing. Example, any site in where we entered a church or monastery (Vatican, Meteora Monasteries in Greece, Pisa Cathedral, St. Francis of Assisi Monastery, etc.) we had to be sure our knees and shoulders were covered. I packed long pants (2 pair) and nice collared shirts for those days; I learned that covered means just and only that – slightly longer shorts and a sleeved shirt of any kind was fine. So, I carried probably 8 pounds of clothes around Italy and Greece that I never wore – I sure could have used that weight to lighten my heavier luggage on the return trip home – instead, with items purchased (and Limoncello and Ouzo is heavy :) and for whatever other reason things get heavier, I had to battle to get my suitcase to 50 pounds and ended up with quite the heavy carry-on to lug back home, and our tour group was swip-swaping items to try to get luggage weights where they needed to be. Also, carrying 1 or 2 less pair of shorts and shirts and planning to hand wash a couple of times along the way would also be extremely helpful advice in packing weight considerations (though I admit we discussed this a bit during our pre departure meetings, I just didn't get that as a major point and it should be). There was very good communication about when to wear tennis shoes v. sandals or other (climbing, amount of walking, terrain), no worries or comments on that. 3. While it may be almost impossible due to time differences and schedules, it would be an excellent help to have a video chat meeting with our Tour Director 2 or 3 weeks prior to departing – this would allow us to see and hear our 18 day tour life leader in advance, have her/him explain things to help us understand better, and allow us to ask questions – this would allow us to pack better, be more prepared, and ramp up our excitement for the trip.
I do have to give a huge shout out to our organizer. His pre-departure meetings, guidance on preparation, and the absolutely amazing custom guide notebook he made for each traveler in our group really made the difference and enhanced this already outstanding experience. Also, the experience of meeting and living for 18 days with travelling companions most of which I did not know prior just added superbly to the overall experience – what fun, meeting and having experiences with new friends and creating special memories with them that will last forever in your heart.
In summary, EF Tours ROCKS IT and Splendors of the Mediterranean is nothing short of FANTASTIC. If you are looking for an excellent experience with local guides, almost everything organized and planned, meeting people for fun experiences, and seeing and learning the Italy and Greece you always (or never) heard about – this is it. You do need to be prepared for long days (that usually start very early), lots of climbing and walking, not having extended in depth time in every location, and (for us in the summer) hot days. However, once you get back, you will miss everything and everyone, and you will be immediately wanting to go back again (so don't forget to toss a coin in the Trevi Fountain :).
Wonderful Italy and Greece Trip
Overall, the trip was very good. Personally, I feel that if I was able to spend more time in Assisi - we were limited to 2 hours when the original itinerary had us spending overnight in the Assisi area and if the food in Italy was better I would have given it an excellent rating. Though, having said that it was still a wonderful trip and good value. Greece was wonderful and the food selection was better than Italy. The Tour manager/director was excellent. The tour guides at each of the sites were either good or excellent. The buses (1 in Italy and 1 in Greece) were good, though it would have been better if the restroom was available to use.
Too Structured
The sights and places we visited were amazing and I loved getting in to museums and having a guide. The problem is that everything was structured so much that it made it hard to enjoy. We had so many things to do all the time that I felt like I couldn't enjoy everything. Plus, if the whole group was together we had to eat at the same place, which most of us didnt like. I wanted to be grouped up with other people around my age but there were so many children in the group that I didnt feel connected. Try to be educational but with more free reign.
I didn't want to leave!
We were constantly on the move- that's for sure! I cannot believe how many historical places we visited on our trip, and I understand that constant travel was required for that to happen. Overall the trip was once in a lifetime, and it created a deep love of Italy and Greece in me. I personally loved Greece for the natural air conditioning, the beautiful mix of landscapes, and the mythological tales that went along with the places. My favorite part was the Oracle at Delphi just because I am so involve with the myths.
I would say that the only thing I didn't like was that it was kinda overbooked. Maybe if a trip like this was to happen again, there'd be more free time factored in and more days in each place. I understand the price would go up and the time frame, but Italy and Greece deserve it. Having other groups mixed into ours was not the best, being that they were uptight and complained the whole time (they were rich and did these things all the time).
I truly enjoyed my 18 days. I think we hit all the spots and it has made me already plan to visit Greece again!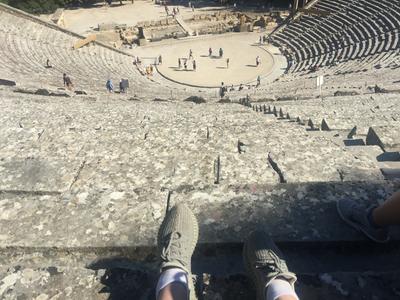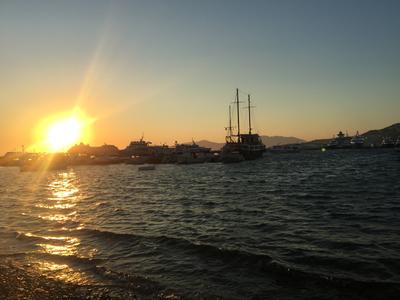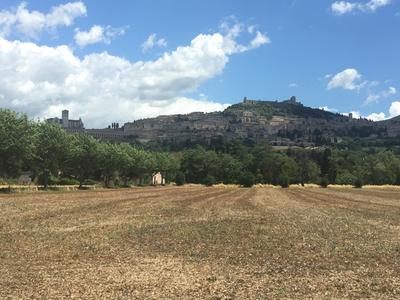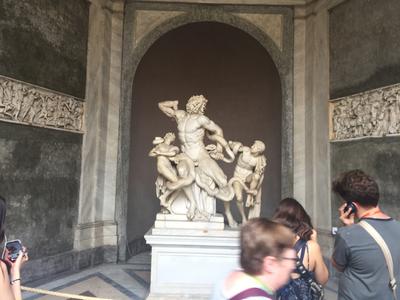 Trip of a lifetime!
The trip was great. The tour guide was very knowledgeable and gave us the best value for our trip. The accommodations were very nice and the food was good. I was happy with everything except the fact that it took us 3 separate flights to get there and back. Thank you
Very informative tour
I went as a chaperone on an 18 day tour to Italy and Greece. The tour director was excellent, very knowledgeable and efficient. All the local guides were very informative. The places we visited were very interesting.
Negative aspects:
1. We spent one hectic day in Rome. Visiting the coliseum/Roman Forum and the Vatican in one day is very exhausting, considering the waiting in line. We were not able to enter the Pantheon. Rome should be scheduled for two days in order to truly appreciate it.
2. Visiting the museum with the real David should be part of the Florence tour. Or add it as an optional tour. We did not have time to wait in line for tickets to see David. EF has the capability to buy the tickets so why not include it in the schedule.
3. Optional expenses such as the gondola ride in Venice, the climb up Mt. Vesuvius and the ride up to Santorini should be specified so we prepare enough funds to cover these.
4. Some of the hotels need updating or should meet a certain standard of cleanliness. Towels were gray and tattered. There were numerous flies in the restaurant.
5. We went with a group of 8 and a group of 3 from other states. All the group of 8 did was to find fault and criticize our group of 33. The tour leader for the group of 8 should not be allowed to travel with EF. She can not get along with other groups and will only make the other travelers miserable.