Loved every second
I had an amazing time and made many unforgettable memories! Janine made the tour personal and always had our best interest in mind!
Amazing experience
Great trip. Outstanding TD. Kids had a great time and learned a lot.
10 day Tour of Southern Spain
The tour was billed as educational, and it was definitely that. There was a ridiculous amount of education and not nearly enough down time. We were told this was a comfortable walking tour, however, we walked between 8 and 10 miles per day and our guide, "J", was none too thrilled about having to wait for the woman in our group that was having trouble walking and needing to use the bathroom more than others were. All, in all, we saw a tremendous amount of Southern Spain, but were exhausted and uncomfortable for the bulk of it. The cost of the tour was also a LOT of money for 10 days in Spain, one can do Spain on a lot less than 4k for 10 days for one person.
Forever Changed!
EF Tours gave my students a wonderful experience. We were able to see several cities and learn so many details and so much information along the way. We made a personal connection with our tour director and we appreciated her helpful, kind, and warm attitude. We commented many times about the amount of information she was able to share along the way about so many aspects of Spain. Very impressive!

Two items that were difficult for us:
1. We were a high school group that loves to have fun but knows when it is time to listen and really wanted to get the most out of the trip. We had several other high schools in our group and one middle school group. The middle school students were disruptive and often rude. It was difficult for everyone involved. I would recommend the two age levels not be paired together. Thought processes are simply not in the same place at the middle level age.
2. We know that bus tours can be helpful to see a lot of things around the city, but it was hard to see in the bus and we were not able to take any pictures. It was the part of the trip that none of our students or adults liked.

Overall, we had a fantastic experience. We appreciated the meals, free time, guided tours, transportation, and hotel accommodations. Thank you for an overall fantastic experience!
First time in Spain
10 days, 7 cities, unforgettable experiences. My students learned a lot about Spain and themselves.
10/10 Recommend
Such an incredible experience! I got really close with a lot of people I had never met before, and got to share the adventure with them. I will warn you, everyday is an insane amount of walking with few rests unless you're on a bus or relaxing during your free time. But that way you get to really see and dive into this beautiful place. 7 cities in 10 days isn't really a whole lot of time, but it was nice that so much was included. The long bus rides weren't bad either. Many people slept, played games, read, watched movies, and even looking out the window was fascinating. I loved every second of the trip, from the ancient structures to the modern! This tour really offered everything. Even our tour guide was amazing! Spanish is helpful, but you can mostly get around with just English. The locals are all very nice and helpful as well. Gorgeous weather every single day in Spain, a bit hot (got up to 107 degrees Fahrenheit at one point), but better than raining or cold. So interactive and so much fun! If you are looking for an adventure packed with intriguing history facts, take this tour! You won't be disappointed.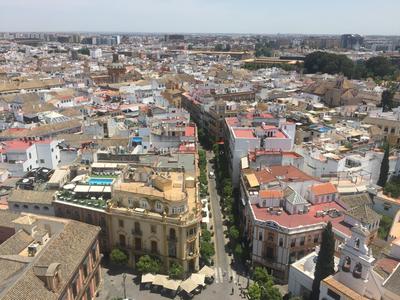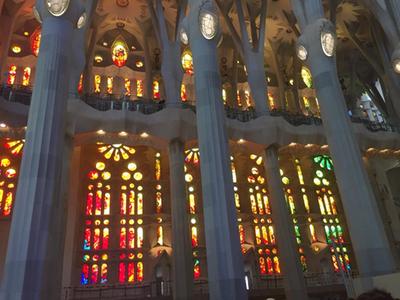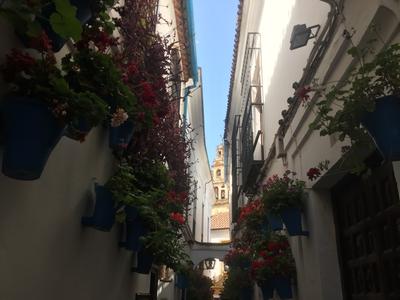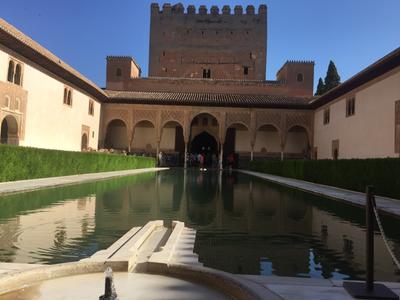 What a great trip!!
This trip offered so many different experiences, from the big cities of Barcelona and Madrid to the laid back feel of Valencia and Sevilla. Several highlights included La Sagrada Família, La Alhambra, La Catedral de Sevilla, el Palacio Real and the beach in Torremolinos. There is something for everyone! Our group participated in several worthwhile excursions to add to our experience: Biking in Barcelona, Flamenco in Grenada, and Taste of Andalucía while in Torremolinos. Our guide offered many different choices for free time: soccer stadium tours, out of the ordinary museums, and plenty of shopping.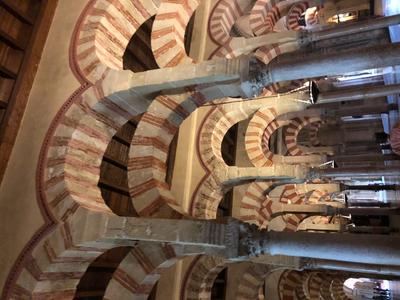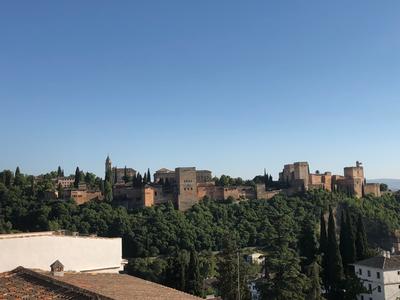 Spainish disappointment
During the first week of the tour, I was extremely disappointed in the hotels were we stayed and the food of the nightly meals at the hotels. I went to bed hungry because of the poor quality of the hotel's food. We were so far outside of the center of the city, there was no where to stroll around at night.
Our tour guide was very organized and flexible. We really enjoyed her.
The cities and points of interest were great choices. I feel like we saw so many points of interest in a concise time. We were on the move which allowed us to see several cities in ten days. We felt safe at all times, which is extremely comforting when traveling with students.