Fantastic Trip
The entire trip was amazing! Our Group Leader let us all know everything ahead of time. Our guide in country, was entertaining and knowledgeable. Everything was perfect! All three countries offered something unique, and I am going to do another trip next year!
10/10
I had an incredible time on this trip. I learned a lot and made unforgettable memories. I would especially like to acknowledge our tour guide, Adam, for making this trip even better:)
Outstanding Tour!
This tour well exceeded my expectations-which were high! Our guide was engaging and extremely knowledgeable and helpful! The part that my students liked best were the village tours where we got to engage and learn about indigenous cultures. My middle school students couldn't decide which country was their favorite because each area was so jam packed with activities and amazing experiences!
Exceeds all expectation
Of course the sights were amazing, but even better was our tour director. She made the experience unforgettable. That's what distinguishes EF Tours. The professionalism,knowledge and caring of their guides. Makes the experience personal. Actually learned a lot of the culture, history and people of the places visited. Highly highly recommend it. Especially if you are lucky enough to get our tour director.:)
Amazing exposure to culture
This tour opened my eyes to the aboriginal cultures of the people that lived in New Zealand, Australia, and Fiji. The tour guide was amazing and helpful. He always explained the history thoroughly and in a fun way. The villages we visited were warm and welcoming. The food was amazing in all of the countries. The Maori people were fascinating with their cooking techniques and dances. The Australian aborigines explained the emulsification of the European culture with the Aboriginal culture. Featherdale National park was life changing. You get to touch most of the animals. In Fiji the Naviti resort was beautiful. Looks like the back ground on a Fiji water bottle. The Fijian culture is incredible and they are so welcoming it was surprising! Everyone says hello (Bula) to you. Overall amazing trip and recommend it 10/10.
Will never forget it!
It was a trip worth every penny! I loved every moment and will never forget it! Definitely, something I suggest!
I loved it!!!
We went to so many beautiful places with so many beautiful people, it was a once in a lifetime opportunity. I learned so much in such a short period of time. It was so exciting and I really enjoyed making great memories and new friends.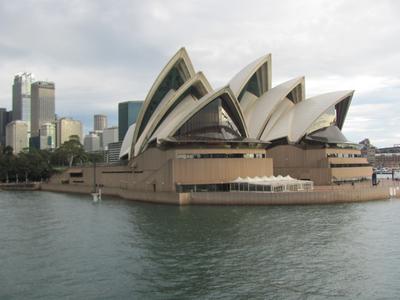 Wow
It was an amazing trip. I learned so much about this area and about the cultures. The scenery was breathtaking.
Eye Opening for many students
This tour was varied from beginning to end! 3 different countries and a lot of activities that students loved. Highlights for them were meeting NZ students for a cultural exchange, surfing & Harbor Bridge climb in Sydney and going to the school in Fiji as well as Tivua private Island excursion.
Recommendations:
Tour leader should give a list of activities and cost for each prior to leaving on tour. Lack of info and money planning created stress for many.
Better food options ( more salads & veggies) & dinner should be included each night.
Disappointed With Itinerary
I want to start by saying we LOVED our tour guide for the Pacific tour. I was a chaperone, and being a former EF traveler in high school and college, I was disappointed with the itinerary for this trip. We did 4 days in New Zealand in Rotorua, 4 days in Sydney, Australia, and "2" days (really 1 day) in Fiji. Almost 5 of our days were spent traveling. Rotorua was beautiful, but 99% of what my students did they had to pay extra for. Otherwise they would've been sitting around all day for 2 of the days. We had a similar experience in Sydney. I think this trip would be better served to spend 2 days in Sydney and 2 in an area of Queensland, Australia. In Fiji, our days should have been reversed so students could really experience all the resort they paid for had to offer. We spent the first full day in Fiji out visiting a school (great experience!), a village, and a local market until about 3PM. The sun sets around 5:30PM, so students had very little time for activities upon return. The following day we had to depart the resort by 2PM to meet EF's arrival time at the airport 3 hours prior to departure. None of the resorts activities were available before 2PM to our students that day due the tide. If our days had been reversed, students could have experienced an entire day of the Fiji resort's beach, water activities, and amenities. The village, school, and market could have been done on the way out of Fiji (we passed each of those places on the way to the airport anyway). I was really disappointed that this was not taken into consideration when the itinerary was planned. Compared to other tours, I was extremely upset with the "paid for" dinners and lunches included in the tour. The majority of them were TERRIBLE and our students ended up paying for an additional meal later because the food was gross or their dietary needs were not compensated (I'm sorry, but a vegetarian student or student with Celiac disease shouldn't have to eat only french fries because they have no other option.) The destinations were all beautiful, but the itinerary was underdeveloped for what the students paid to go on the trip. That being said, I want to repeat that our guide was amazing and provided students with a plethora of activities they could do (for extra money) while in each destination. Some students ended up spending an extra $1,000 on these excursions just to take up time that wasn't accounted for with the original itinerary. Lastly, our flights home were ridiculous. We had a layover in Los Angeles AND Denver (with an overnight stay) before returning to North Carolina. Every other group on our tour had a flight straight home from Los Angeles (even another group of 23 returning to the east coast). I'm unsure why EF did not give us an overnight in Los Angeles and a flight from LA to Denver the following day instead of flying us to Denver, shuttling kids to a hotel at 9PM, returning to the airport at 7AM via shuttle, and flying out at 10AM. It was highly inconvenient, several bags were lost by the airline because of the confusion with our connectors, and all would have benefitted from one fewer connection. I'm usually over-the-moon excited when returning from an EF trip with the value I received for my money and the lessons learned, but this trip left a little bit of a bad taste in my mouth.