Coolest Thing Your Child Will Probably Ever Do
When they first brought up the trip at my daughter's school, she really wanted to go. I think she thought it would be fun and all that, but I don't think she ever imagined the incredible impact the trip would have on her. When I picked her up at the airport, she was overcome with emotion because she had the best time and loved the people she traveled with so much. I was so happy for her. Every parent wants their child to have such a unique, memorable experience such as this. It's something they will remember for the rest of their lives. My daughter absolutely loved the Madrid trip with EF Tours. She's even said she would do anything to go on another tour through EF next year.
Life changing experience!
Such an incredible experience! Was able to meet with wonderful new people, learn all about the spanish culture and enjoy amazing views. Already signed up for my next EF trip and I just can't wait!
Trip
I had a great time, and really enjoyed the sights on the tour. The Cathedrals and architecture was amazing.
Amazing Experience
Royal Madrid was such an amazing experience despite the shortness of this journey. The students enjoyed every aspect of this experience from the guided tours, visited tours and even the beautiful scenery of Madrid. I thoroughly enjoyed our Tour Director, Alberto as he was excellent and made this trip come alive for many of us.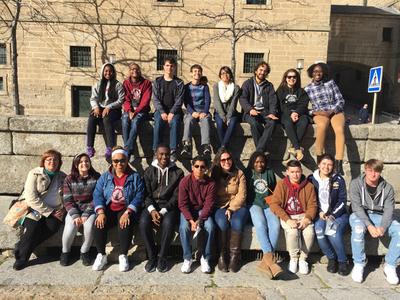 Fun and Fast-paced
This is a quick trip without the 2-day extension in Barcelona, but we saw a wonderful variety of sites regardless. The cooking class and flamenco class were the most fun parts of the trip, but the students really loved seeing the elaborate royal palace and most of all, the endearing city of Toledo. I told our guide in Toledo that it was my second time there but still learned something new. The only reason I could not rate this tour as excellent is because another group traveling with us was extremely rude and made most of the trip unpleasant. Although this is no fault on the part of EF, this is the downside to large-group travel.
The trip of a lifetime
This trip was just incredible. I enjoyed where we visited and toured. All the places we went to were thoroughly beautiful and full of great history. I have no complaints for this tour except for some of the museum tour guides. Some of them were dry and moved quite quick considering i would've loved to enjoy the works of art. But other than that, it was thoroughly enjoyable and am so happy I went on this trip.
Scariest time of life
After Being left behind at a bathroom stall by the group for over 30 minutes, my child experienced the most scariest moment in her life. A total stranger had to find the group. Instead of telling me how great experience this trip was instead she told me about the nightmare. How she sat contemplated life and cried til a waitress and her son helped her. And to top the situation the person in charge response to me when I asked for explanation was" she is almost eighteen hold her to responsibility and we assumed everyone was out of the bathrooms. This is unacceptable. Anything could have happened to my child. Never again will I use or suggest anyone to use this method of traveling. Someone should be held accountable. I worry for students who will take this trip again
Spain Trip April 2015
My daughter had a wonderful time traveling around Madrid with her school group through EF Tours. These tours are a great way for students to travel and see the world. I would highly recommend these trips for any students.
amazing
my son can not wait to go on his next trip with EF tours.
Wonderful Opportunity
My son felt like he got so much out of the tour. From the tours to the flamenco dancing to the cooking, he found the experience to be meaningful and fun. I felt like it was a good investment of money; although, for 5 days of touring and 2 days of travel, it was expensive.