Outstanding trip - fast paced & we saw it all!
This was an amazing trip. We covered a lot of ground in a short time. The tours are face paced, do not expect to linger anywhere too long. See it, learn about it and move on. Take all the excursions you can. It was amazing we were able to see so much, not just London, in such a short time. The guides we had were all professional and fun. The amount of knowledge they were able to impart was incredible. Our main guide really made the trip, he listened to what we asked for and ensured we got to see things the group was interested in even though it wasn't part of the itinerary (ie: he took us to see Platform 9 3/4 at King's Cross because we had a vast majority of HP fans on the trip). The food is very "kid friendly" but still manages to get in some British classics to augment your tour.
So much fun!
This tour was amazing! I got to see so much, learn so much, and our tour guides were great! Over all a totally amazing experience that was way more fun than I thought it would be. 10/10, would do it again in a heartbeat.
Amazing
Super fun tour! Saw a lot of interesting things
Wonderful experience
This tour was amazing and had a wonderful time. I got to go live my dream of going to London. The tour could have been better if my group leader was more organized.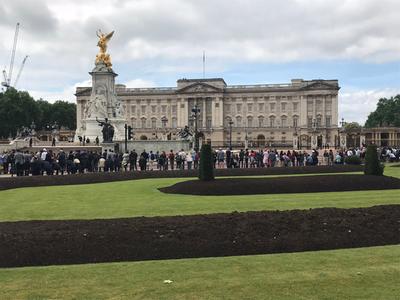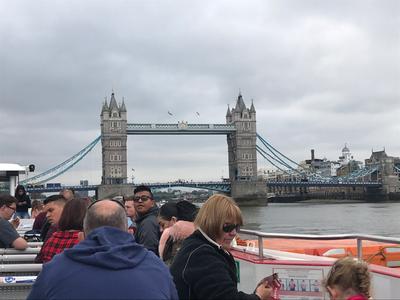 Fantastic time
Umar was absolutely amazing and went above and beyond anything I could have hoped for out of a tour guide. He was great every step of the way and made sure that we had fun and safe time. I've never met anyone more enthusiastic. The trip itself was absolutely fantastic and was one the best trips I've ever taken.
Reactive, Not Proactive
The overall experience was wonderful because we were able to see London and Paris in 7 days, and we were able to see the most amazing places in each of those cities. However, there were so many issues with the organization of the trip. 1) We were not given the final itinerary until we arrived in London, 2) There were periods of time to explore, but with no real guidance of things to do or special places to visit, just go in groups of 3 or more and we'll see you back at designated time, 3) We were late for not only a show at the Royal Shakespeare Company's performance of "Romeo and Juliet" to only see Act 2, but we were not checked in on time for the Eurostar from London and Paris, and there were many disappointed people on our particular tour. Our tour guide seemed to be more reactive to the situations than proactive, in order to prevent these issues from happening. I am so glad to have had the experience to tour these cities, and our group of students were good sports to the issues. I think it could have been a better experience with stronger organization of the tour.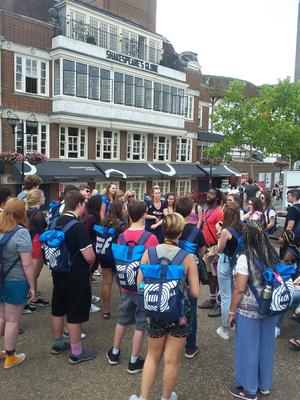 What time is the show?
EF tours came highly recommended from other teachers who have used them. Unfortunately I will not be able to do the same. The tour guide was a pleasant chap but time was an issue for him. We did an add on to Stratford to see an RCS show but we missed the first 2 acts because the tour guide 1. didn't know when the show started and 2. started us out later than what was on the itinerary. I realize everyone makes mistakes so although disappointed we moved on. The next day we were to go to Paris for two days of sightseeing. Well once again the tour guide mixed things up and we missed the train to Paris, having to take a later train six hours later. once in Paris we almost had a group arrested because the tour guide did not tell us what stop to get off on and unfortunately some people missed the stopped and were picked up by staff and told they had to pay for the entire train trip or be put in jail. The tour guide was not very proactive, instead he was reactive which caused a lot of stress on the adults who were chaperoning. Ef did upgrade some of the events we did, but it didn't cover the stress or time we lost. I will probably look at different tour companies before I use EF again.
very nice
we had the best tour guide ever!! Will was amazing and helpful. Everything we wanted to do, he made happen. Our group had a wonderful and memorable experience!
Amazing
It was the highlight of the summer. The EF tour guide was amazing. The journey through the UK was something I will remember for ever. Would have liked to do Paris one of the days. Would have preferred that we visited the O Theater and cut out the show. Standing for 2 1/2hrs after being out all day walking was a bit much but seeing WICKED two days before was the BEST!! My favorite was the Royal Observatory.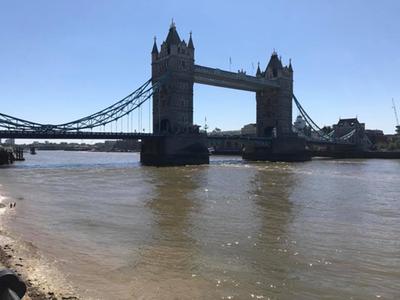 London/Paris Disappointment
My daughter worked to save and pay for this trip for one year. The trip was poorly organized by the local lead person in charge of this trip from day one. Many disappointments came from not seeing the historical attractions that were told she would visit. This was a very large investment for my daughter, that she paid for 100% on her own. My daughter was looking for the more cultural and historical experience and that just didn't happen.