Wonderful Experience!!
My daughter traveled with part of her Junior HS class to Athens, Florence and Rome. She loved it!!! Felt very safe and that the experience was remarkable. Commented that both her chaperones and guides were great. She was so busy she did not have time to be homesick. The educational experience was first class and could not be substituted with classroom learning. Thank you for taking such good care of her and keeping her safe.
Crammed in to Close
10 days to much activity with no break. Went to several attractions but had no personal time to browse at the attraction to my satisfaction. The tour guides were excellent and knowledgeable but again I had no time to browse at the attraction. And riding on a bus or a boat are not considered breaks. :)
Epic Experience
This was an experience to remember! Our tour guide was amazing and all our guides to each monument were amazing. The bus drivers were their own version of stunt drivers. If you have the opportunity take it, it is worth it for sure.
Beautiful places
Great enjoyment and the best tour guides and directors. So many interesting facts provided and hints /advice on the do and do not do. I would suggest this tour and any other by EF Tours to anyone interested in a learning experience.
Beautiful!
Overall, this was a good trip. I think that the optional excursions were overpriced for what we got with them. The food could have been better and more relevant to the culture. The hotels and transportation were great! Our Tour Guide was exceptional. I really enjoyed visiting Greece for the first time and going to Italy again. I learned a lot on this tour and enjoyed making new friendships.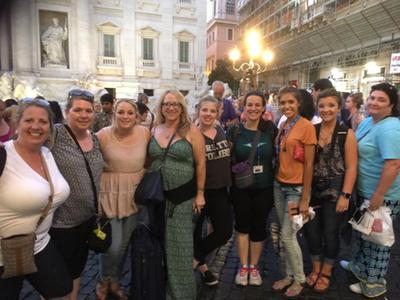 This was rough
The tour itself was fine, but there was very little time for students and chaperones to enjoy the cities as they pleased. Additionally, the food places selected by EF Tours were abysmal at best. The hotels were similarly bad, especially in Greece. Lastly, the tour guide was unfriendly and unhelpful whenever we experienced any problems.
Too Much bus time
This tour offered some AMAZING sights and stops, however, I (and the majority of the people I spoke with on my tour) felt we had too much wasted time doing nothing. It was not well planned. Our first day was a complete loss and we only were able to walk from our hotel to the harbor. We basically spent 4 of our 10 days on a traveling on a bus or a ferry- with very little stimulation (other than beautiful scenery). There were few or no real stops along the way to break up long days of travel (gas station bathroom breaks don't count). The ferry was terrible! After traveling all day on a bus, we had to wait in a sketchy terminal until after midnight and then lug our belongings 1/4 mile through a dark parking lot to the ferry. There were drunken truckers sleeping on cots outside of rooms. There were no activities for the kids, while on the ferry. We also felt that EF had skimped on the meals. We basically ate the same meal over and over while in Greece - with a tangerine or nectarine offered as dessert each time. The food was basic and usually not very good. It did improve once we arrived in Italy, but we were not given many opportunities to eat on our own, as we had to eat at the auto-stat twice, while traveling all day on the bus. Overall, we saw some amazing things and I am still glad I went with my daughter but I definitely did not feel that I got my money's worth on this one. Our tour guide was nice and knowledgable, but did not seem to put much effort into trying to fill in gaps of time for us and she sometimes would disappear for hours, after dinner. This is not my first tour with EF.
Lots to See!
It was a pleasure to have this experience with my son and I recommend parents attend. We saw many sights and did not have to wait in lines as the tour allowed us immediate access. Be advised that the food was less than mediocre. We ate breakfast and dinner as a group - everyone is served the same unpalatable, cheap and low-end food. Hotel rooms are adequate and there is no bathroom on the tour bus (imagine not going for four hours).
fun but complicated
i had fun, i saw amazing new sights and sounds but i felt like everything was complicated. like things weren't on time for example the ferry boat so we had to wait for 3 hours to get on. i loved our tour director she was adorable, i think she did a great job. Also, once we had like a 4 hour drive on a bus to one place and it was so hot and we were already sweating from outside and it just felt gross. Some of the hotels and the location was interesting, i was confused as to why they were so far from the places we were visiting. but in all i had a good time, made some great new friends and new memories. so thank you for making it possible.
Wasn't the best
I have been on an EF tour before and had an amazing experience. This one was on the same level. The hotels were subpar especially the Florence hotel. The Florence hotel was the worst hotel I had ever stayed in. Primarily because the hotel staff was very rude and unaccommodating. They treated us as though we were lucky to be in their presence. It was awful. We ate lunch at gas stations much more than I would have expected (I believe it was at least 4 times). Also because our previous experience with EF was so wonderful, I did not do any planning on my own so when we were dropped in Florence with no tickets or plan for anything in particular, we ended up shopping rather than wait 2 hours for tickets for sights we would've loved to see. Last EF trip we shopped very little because everything was so planned out but this time it felt like all we had was free time and since we knew very little about the areas we ended up shopping. We spent way too much time on buses, when you are as exhausted as EF tours tend to leave you, you end up sleeping on the bus rather than listening to the tour guides no matter how hard you try to stay awake. Kids roaming without an adult on an overnight ferry when people are sleeping in the hallways was also not a good scene. This was just not a good experience for us.